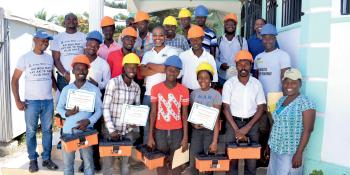 Solar streetlamps bring security, opportunity
With each streetlight that went out in the Canaan community north of Port-au-Prince, Haiti, Ruthiana felt less and less safe. There were simply no qualified workers in the neighborhood to repair the lamps, so the once well-lit streets became pitch dark at nightfall.
The residents of Canaan, an informal settlement of families displaced by the deadly 2010 earthquake, live in difficult conditions, often with no running water, electricity or access to basic infrastructure. The solar-powered streetlamps were originally installed through a partnership between Habitat Haiti and the national and local governments. In all, Habitat installed 200 energy-efficient streetlamps in capital-area neighborhoods and now is working to create a pool of qualified residents in each neighborhood to maintain them.
This summer, Habitat began conducting trainings in conjunction with a local partner. Ruthiana, who is studying to be a civil engineer, was among the first 19 participants. Each participant received hands-on training and a toolkit to test electrical currents; neighborhood clusters were supplied with ladders. Habitat plans to duplicate the project in Simon Pele, Port-de-Paix, Saint Louis du Nord, Gros Morne and in the Grand' Anse area.
In Canaan, street vendors report that they now feel comfortable doing business after nightfall. Public transportation drivers, meanwhile, are able to start their shifts before dawn and continue after sunset. Children gather beneath the lights, some of them studying in their glow. "It is important for me to understand how these solar streetlights work because they help my whole neighborhood," Ruthiana says. "If one of them breaks down, I can help my community by fixing it."