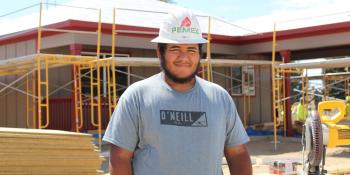 Students opening doors for their community and their futures
In 2015, 29th Street Road in Evans, Colorado, was a plot of undeveloped land. In 2020, it is a growing neighborhood of Habitat homes, 16 so far, transformed in part by high school students who are changing lives — including their own.
The students attend Jefferson High School near Denver and participate in the alternative school's Construction Pathway Program.
Launched by Greeley-Weld Habitat for Humanity as a way for students and the community to help each other, the workforce readiness program gives students the opportunity to build alongside future Habitat homeowners, community partners and other volunteers. As the students tackle new responsibilities, they also make professional connections and discover life skills that they can apply off the build site.
For Mac Cruz, an 18-year-old who has participated in the program for three years, working with families is one of the most rewarding experiences. "The part I look forward to the most is the last day — helping the family move in and seeing how their smiles have gotten bigger and bigger," Mac says.
Many students participating in the Construction Pathway Program have experienced unstable housing themselves, enduring evictions and frequent moves. They know the fear and stress a family feels when their income can't stretch to cover bills and rent, and oftentimes they have picked up extra jobs and helped raise siblings. When Mac lost his mother, he became a pillar for his family at home, taking on responsibilities such as driving his younger sister to school.
Students identify with homeowners who have to work multiple jobs to support their families. "That's what their parents were doing just to survive," says Matt Weber, who teaches the program at Jefferson High School. "They truly understand what these families are going through." When students see the impact that their work has on a family, he adds, the project becomes personal. He says, "They realize they're not just building a house, they're building a home that a family will live in."
Although Matt has done construction for more than 25 years, starting the program from the ground up was daunting. However, seeing how much the students give and grow while shaping a community brings this program to life for him.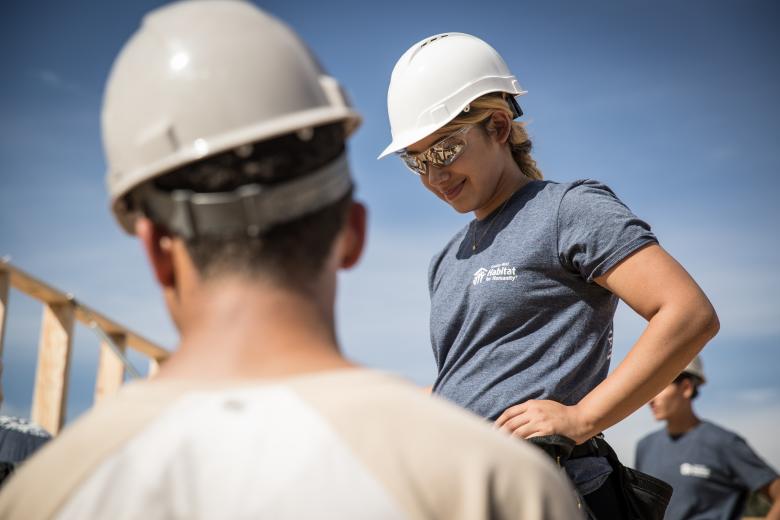 One of the many ways Matt sees his students grow is academically. The program shows that the transformative effects of the build site extend to the classroom. Students enter Jefferson's Construction Pathway Program with an average grade point average of .8 and an attendance rate of 34%. When they leave the program, the average GPA has improved by at least two points and the attendance rate has jumped to 87%. "I started showing up more and more and getting more work done," Mac says.
The program boasts a 100% high school graduation rate, with some students having earned as many as 27 college credits. "There are students who enter into the program thinking that they're not going to achieve success academically or that they don't have anything to give," says Cheri Witt-Brown, Greeley-Weld Habitat's executive director and the driver behind the program. "They exit the program knowing that they have a lot to give to the world."
The corporate and industry partners who work alongside the students host "lunch-and-learns" on the build site to encourage, educate and network with the students. "Once the students go through this program and are introduced to so many career opportunities, they see chances for a future that they never would have anticipated," Matt says.
With this program under his belt, Mac plans to pursue a career in underwater welding. In addition to his construction knowledge, he's confident in his improved communication skills — by talking to other students, corporate partners, volunteers and homeowners almost every day, he's learned how to connect with others.
Mac and many of his fellow students joined the program to help families build a better future. Now, these families aren't the only ones looking forward. "I never thought I'd be able to do anything in this program. I didn't think I'd be in the position that I'm in," Mac says. "But seeing how much this community has evolved and what we've done — it's pretty amazing to me."