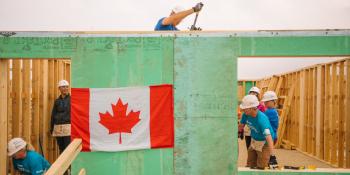 Did you know that Canada is celebrating its 150th anniversary in 2017? Habitat for Humanity's Jimmy & Rosalynn Carter Work Project is helping to mark the milestone by building 150 homes in Edmonton, Fort Saskatchewan, Winnipeg and other cities throughout Canada.
Future homeowners are building the places where their families will grow stronger and more independent, working alongside volunteers from the local communities, as well as across Canada and the United States.
Here are a few more facts about culture, people, places and the importance of housing in Canada.
Edmonton is the northernmost metro area in North America with a population of 1 million or more.
Fort Saskatchewan was home to the fur trade as early as the 1790s.
Winnipeg is the capital of Manitoba and the geographical center of North America.
The 34th Jimmy & Rosalynn Carter Work Project marks the second time the former president and first lady have built in the country. They first led a build in Winnipeg in 1993.
Canada is home to more than half of the world's lakes.
The iconic flag of Canada, with its prominent maple leaf, was adopted and officially raised on Feb. 15, 1965.
There are 56 Habitat affiliates in Canada that operate more than 100 ReStores.
Habitat Manitoba has been building since 1987 and has built nearly 400 homes to date. They receive approximately 500 inquiries about housing each year and currently can partner with approximately 25 families annually.
According to the 2016 Edmonton Community Foundations Vital Signs, 24,770 renter households in the city spent more than 50 percent of their income on housing costs.
The Habitat for Humanity Housing Survey found that 91 percent of Canadian homeowners surveyed say that owning a home is one of the greatest accomplishments in their life. Eighty-six percent say having affordable, stable housing contributes to a community's overall health. And yet, 91 percent of Canadians surveyed say the high cost of homes is a barrier to homeownership.
Dozens of local Habitats across Canada have participated in this year's Carter Work Project.
Since 1984, the Carters have worked alongside 100,000 volunteers to build, renovate and repair 4,000 homes in 14 countries.
Subscribe to our monthly newsletter
Get our latest news, volunteer opportunities, DIY tips and other ways to get involved with Habitat for Humanity.