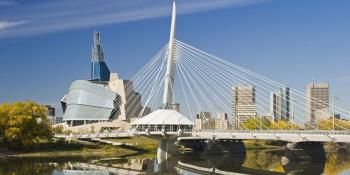 Strengthening families and communities in Manitoba
The 2017 Jimmy & Rosalynn Carter Work Project won't be the first trip to Winnipeg for the Carters. The former president and his wife first built in the city in Canada's Manitoba province more than two decades ago.
This is a particularly special year for the nation of Canada, which is marking its 150th anniversary. "The Manitoba government is honored to have President Carter and Mrs. Carter return," says Scott Fielding, the province's minister of families. "I remember when they came in 1993, what an important event it was. It's extra special that they are able to come back, celebrating our 150th year."
The weeklong build is a great way to partner with Habitat for Humanity, Fielding says, to increase the number of high-quality, affordable homes in the province. "Housing is a true component to lift people up," he says. "We think that housing is really essential to creating well-being for families and individuals and really is a key component to strengthening families by building healthy communities."
Manitoba has backed up that belief by joining with the Canadian government to invest $1.2 million in the Carter Work Project, which will include the construction of 25 safe, affordable homes in Winnipeg and surrounding areas as part of the project's overall 150 homes.
Fielding says Manitobans are looking forward to being among the volunteers wielding a hammer during the Carter Work Project. "We're going to have members of our government be a part of that, and we're excited, of course, to meet with President Carter and Mrs. Carter," he says.
He hopes that volunteers coming from other places to build alongside homeowners and Manitoba residents will take some things back with them.
One is the knowledge of how successful the Habitat model is in Manitoba, with more than 170 homes built since 2001. He also hopes that volunteers see what a home means to a family, something he has witnessed firsthand on previous Habitat builds.
"What I really take away is the sense of pride that you see in people's eyes when the keys are handed over to them," he says. "It's a very special moment because they contributed so much to the building of their own home."
Subscribe to our monthly newsletter
Get our latest news, volunteer opportunities, DIY tips and other ways to get involved with Habitat for Humanity.