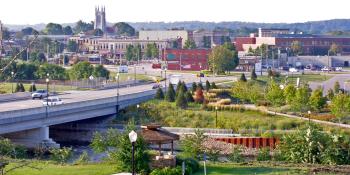 Indiana mayor welcomes Carter Work Project to his hometown
After years of volunteering at the Jimmy & Rosalynn Carter Work Project, Mishawaka Mayor David Wood is thrilled to host the life-changing build in his hometown.
The mayor spoke with us about the need for affordable housing in northern Indiana and the power of partnerships between government and nonprofits to address that need.
Q: What was your path to becoming mayor?
A: I wouldn't be in this role at all if it wasn't for Habitat for Humanity. When I was young, just graduating from college and getting married, my wife and I knew we wanted to live in Mishawaka, but we couldn't afford much.
We asked a family friend for advice, and he encouraged us to build our home ourselves. I told him that I had no experience, had never swung a hammer in my life. He responded, "We'll fix that. You come out with me this Saturday."
That weekend, we went to a Habitat build site, where he was house leader. I went for absolutely purely selfish reasons — to learn how to build a house for my family. I did that, and then I kept going.
That was about 35 houses ago. I've been to the Philippines; South Africa; Plains, Georgia; Houston, Texas; and Benton Harbor, Michigan. I've served on several Habitat boards and committees.
As a result of my involvement, I got a job at a bank where I worked on affordable housing issues and developed a program for the bank to purchase Habitat mortgages, which freed up capital so Habitat could build even more.
One thing led to another, which led me to getting this job as mayor — and I wouldn't be here without Habitat.
Q: What is the state of housing in Mishawaka?
A: Mishawaka is growing, but we are a traditional Midwestern Rust Belt city where there hasn't been a lot of growth over a long period of time. We're largely a middle class, blue collar kind of a community.
But we're seeing now, fortunately, an uptick in Mishawaka. In fact, we now have more jobs than we have workers to fill them. We're seeing affordable housing as a pivotal issue. The work of Habitat for Humanity of St. Joseph County fits in beautifully with our strategy to address that.
When I was elected, the city had its own internal first-time homebuyer program, but it was struggling when Habitat was doing the same program so well. So instead of the city building three or four houses each year, we now support Habitat, which can build eight to 10 Habitat houses each year.
Over the course of our work together, we've completed close to 50 Habitat homes. So Habitat for Humanity is really helping us to fill that gap for much needed affordable housing — and they're doing it incredibly well.
Q: What role does decent, affordable housing play in building a thriving community?
A: The homes that we build are not only great additions to the neighborhood, but they're the most stabilizing factor in these families' lives. They now have a place where they can put down roots and raise their families.
Plus, now that they have stability at home, these families are starting to participate in their broader community. Being homeowners, they now have a stake in our community. We've seen these positive changes time and time again, and as a city, we're all in for investing in that.