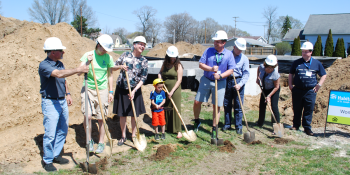 A legacy lives on through the Carter Work Project
Vera Z. Dwyer wanted to have an impact in her northern Indiana community. Eight years after her death, a charitable trust continues to fulfill her wish.
As a sponsor of the 2018 Jimmy & Rosalynn Carter Work Project, the Vera Z. Dwyer Charitable Trust is helping families achieve the benefits of homeownership while building a stronger, more stable community.
David Kibbe, president and chief executive officer of Indiana Trust Wealth Management of Mishawaka, has the responsibility of funding and furthering causes that Dwyer championed during her lifetime. He talks about her legacy and how Habitat for Humanity fits into it.
Q. Who was Vera Z. Dwyer?
A: Vera Dwyer and her husband, James, were owners of Dwyer Instruments. The company, founded by James and his brother in 1931, is still active and headquartered in Michigan City, about 40 miles west of Mishawaka. Their first invention was a fluid-filled inclined manometer used in gauges for furnaces and boilers. I'm told that if you go almost anywhere in the world, including submarines, and look at a gauge on the furnace or boiler, it's most likely made by Dwyer Instruments.
Q: What is her legacy?
A: Vera had a strong belief in education and in the health sciences. Prior gifts have included scholarships and educational programs through Indiana University South Bend, College of Health Sciences, as well as local hospices.
She also had concern for human services for residents of Indiana. Human services, a broad designation, includes meeting people's basic human needs. And there's no question that housing is a basic human need — which is where this gift to Habitat for Humanity falls.
Q: What do you hope people learn about your area through the Carter Work Project?
A: It's a tremendous honor that Mishawaka and South Bend were chosen. I hope that people see that this was the right place to make this investment, that we have a vibrant, very caring community. I am excited about the opportunities that this housing brings for all of the families who will live there.
Q: What do you hope the impact of the Dwyer Trust has been thus far?
A: I hope that part of the legacy is the recognition that we all can be like Vera Dwyer — that you don't have to have significant wealth for philanthropy to be part of your legacy. You only need to have a giving heart.
In addition, I think that the gifts that the trust has made to date have all been with the hope that as people are touched or benefited by the Dwyer Trust that they will, in turn, utilize that opportunity to make their communities a better place. That way, Vera's legacy has its own legacy of giving.
Q: Talk more about the reason for giving to Habitat.
A: As trustee of the Dwyer Trust, we look for opportunities to make an immediate impact in our community. The Carter Work Project and our partnership with Habitat of St. Joseph County is a fundamental example of an immediate impact.
We're supporting homes that are going to provide housing and shelter for families right away. And the benefits are only going to compound over the years. We can't even begin to measure the ripple effect of how a home for one family not only will affect them in their own lives, but everybody that they touch.