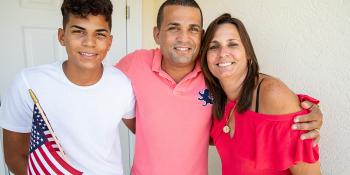 Impact of housing affordability on communities
Public officials around the country are deeply concerned about the price of housing and the ability of residents to afford living in their cities, towns and states. They know what a profound effect the issue of housing affordability can have on the life of the communities they lead.
"This is the biggest crisis in housing since the Great Depression. And it's not a New York/San Francisco crisis — this crisis is across the United States, including rural areas," says former Trammell Crow Co. national managing partner J. Ronald Terwilliger.
Focusing on affordability should be among any community's top priorities, says Kevin Faulconer, former mayor of San Diego. "We need to think about homes the way we think about water and streets. These aren't nice to have — they're essentials.
Economic benefits
Having an ample supply of affordable places to live fosters a host of economic benefits for communities and also serves to heighten civic participation, increase public safety and create a greater sense of community pride
"We can't allow people to be priced out. If our city becomes too expensive for people to live, we're not going to be able to provide a future for our kids and our grandkids," Faulconer says. "We also need to ensure that police officers, firefighters, teachers and nurses who work and serve in our city can afford to actually live in our city."
The economic impact of housing affordability can start a ripple effect for an entire community. When families spend less on housing, they have more to spend on goods and services. These transactions fuel community-wide economic growth by bolstering local businesses and the local workforce. They also contribute to the local tax base that gets invested back into the community through government programs and infrastructure improvements — resources that benefit everyone.
Communities depend on workers at varying levels from varying industries. "Economic diversity is really important for a neighborhood to succeed," says Majora Carter, an urban revitalization strategy consultant. "People want neighborhoods where they can get their creature comforts and needs taken care of — whether that's at the barbershop or the cleaners or a bookstore or a restaurant."
But to keep people working in these positions, to keep businesses open and the neighborhood humming, affordable housing options based on income levels must be made available, she explains. "Vibrant communities have lots of different types of people in them," says Carter. "But if we don't secure affordability for some, that vibrancy can fade very quickly."
A connection to community
Part of this vibrancy is the way that neighbors support one another — a characteristic more likely found in communities where housing is stable and affordable, says Tiffany Manuel, an affordable housing expert and president and CEO of TheCaseMade. "When I think about myself — because I know I'm going to live in my particular community for a while — I show up in community differently," she says. "I meet my neighbors differently. I'm willing to do the work of putting in time and energy into the relationships with my neighbors and with organizations in my community because I feel part of it. I belong."
Renters and homeowners alike who have that connection with their neighbors and their surroundings tend to invest in and care for their community more deeply, says Manuel. "This is the place that you come home to at night. It's the environment that shapes you and your children," she says. As a result, residents are more likely to work to ensure that environment is a safe and productive one.
Homes that are affordable allow families to put a stake in their community, improving the space for everyone living there. Strong neighborhoods exist where residents have quality housing; are invested and engaged in their communities; have access to transportation, employment and educational opportunities and have a sense of safety and inclusion.
Help us cultivate and preserve these kinds of communities by advocating for home affordability.