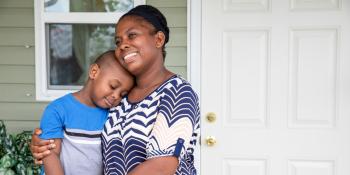 The impact of housing affordability on the economy
Greater tax generation, creation of jobs, opportunities for economic development, increased job retention and productivity, and the ability to address inequality — all are among the economic benefits of increased access to quality, affordable housing.
A 2004 report showed a harmful link between high housing costs and employee recruitment, productivity and retention, which hurts businesses and a community's economy.
Since then, the impact of high housing costs in the U.S., both rental and homeownership, has only grown. Freeing our local, state and national economies from the drag created when housing is unaffordable helps everyone.
Hear more from these economists, housing experts and public officials about just some of the economic impacts of housing.
Economic development
"Pittsfield is a post-industrial New England city of 45,000 people that is rebuilding after a long period of economic decline. We were a one-company town that has had to work on building a diverse economy. We can see how not investing in several of our neighborhoods with concentrated poverty is diminishing the value of the housing. We now need to turn our attention to rebuilding our neighborhoods.
"I am a firm believer that job creation, business development and stabilized neighborhoods are all part of economic development. In my position, I talk to business leaders. I talk to residents. A common theme that I hear is that we have inadequate housing for business expansion. If we want to get our arms around solving both of those problems, then housing is certainly part of the economy.
— Linda Tyer, mayor of Pittsfield, Massachusetts
Income inequality
"As the cost of housing goes up in a community, people may not be able to afford to live there so they move further out. Moving further away from hot markets may be stopping people from working in locations with higher wages. This impedes the ability of businesses to hire workers and is not good for local economies.
"The higher cost of housing in markets with higher wages also may be exacerbating income inequality because less-educated and lower-income households are particularly the ones likely unable to afford housing in the denser, higher-cost areas. While local decisions may be key drivers in the higher cost of housing, the drag on the economy and its contribution to greater income inequality is playing out on the national stage."
— Katherine O'Regan, New York University Wagner professor of public policy and planning
Attracting and keeping business and manufacturing
"Home affordability is an economic issue. Take Indiana, my state, which is one of the top manufacturing states in the Midwest.
"Manufacturers have been screaming because they have the factory jobs, but the communities where they do business don't have enough affordable workforce housing — homes between $100,000 and $250,000. We have a giant auto plant in Southern Indiana but not enough affordable housing to keep up with the demands of the manufacturer or the vendors that work with them. The bankers are screaming because they have money to lend families, but there's not enough housing that the workers can afford.
"The Chamber of Commerce is saying, housing that is affordable doesn't just help families — it helps the local government. When we get families into homes, they can begin paying property taxes. And if they have a home that they can afford, they have more expendable funds to spend on food and other consumer goods. They help local businesses because they can afford to eat in restaurants and shop in stores."
— Gina Leckron, Habitat for Humanity Indiana state director
Additional "hidden" costs
"We have used some of our research out of Children's HealthWatch, a research policy network based at Boston Medical Center, to ask, 'What health care and educational costs could be avoided if all families with children lived in a stable home?' We estimated that number at $111 billion over 10 years.
"This is based on the health-related costs of mothers and children who have either experienced homelessness, moved two or more times or been behind on rent in the previous year. The costs linked to unstable housing include increased hospitalizations, ambulatory visits, dental procedures, mental health care for mothers and special education services for children.
"We as a country always act like we can't find the money to solve this home affordability crisis, which implies that we are not spending it now. We are spending it now. We are just spending in on adverse health and bad outcomes."
— Dr. Megan Sandel, associate professor of pediatrics, Boston University School of Medicine, and principal investigator, Children's HealthWatch