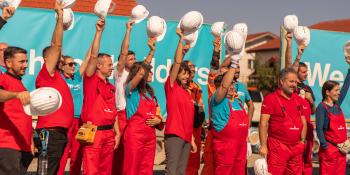 Corporate Partners
Europe, Middle East and Africa
We work with many companies to eradicate poverty housing.
Our corporate partners' donations of funds or services help us to continue providing families with homes and the hope of a better life. We are grateful for their kind support.
For more information on partnering with Habitat for Humanity through product donations, financial support or by mobilizing your employees as volunteers, please contact us.
We are proud partner with corporates like:
ArcelorMittal Construction, manufacturer of lightweight steel building systems, announced a ten-year partnership with Habitat for Humanity International. The partnership will include product donations and financial support for Habitat's various projects in EME region as well as sharing ArcelorMittal Construction's technical expertise when it comes to construction to help low-income families access healthier, safer and more sustainable homes.
Some of the projects explored as part of the partnership focus on scaling up Habitat's work on residential energy efficiency in Central and Eastern European countries. Along with providing affordable and energy-resilient housing solutions, the partnership will explore supporting community centers, social housing units and facilities employing vulnerable and disadvantaged individuals.

Credit Suisse, as one of the world's leading financial services providers, has committed itself to the improvement of poverty housing through generous donations as well as through the enthusiastic volunteerism of its staff throughout the world. Between 2012 and 2016, Credit Suisse and its generous employees significantly contributed to Habitat´s disaster response and risk reduction efforts upon three major catastrophes: Japan Earthquake and Tsunami in 2012, Typhoon Haiyan in Philippines in 2013 and Nepal Earthquakes of 2015. Credit Suisse's support funded not only distribution of shelter repair kits, construction of disaster resistant homes and a community centre, but also supported training of local construction experts that will be providing technical assistance and enable hundreds of families in need to rebuild their homes in a resilient way and be better prepared for future disasters.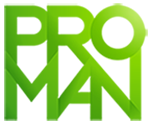 Proman, a global leader in natural gas derived products and services. expands its long-term collaboration with Habitat for Humanity, building on a partnership that has been ongoing in Trinidad and Tobago since 2012. In 2019, Proman announced $1.2 million to Habitat to provide access to safe, decent and affordable housing through multiple building projects and long-term community projects around the world. The funding focuses on home building, disaster resilience and emergency response projects in Trinidad and Tobago, Europe and the United States. The partnership aims to directly help more than 1,200 people and families while engaging Proman´s employees and utilizing their expertise.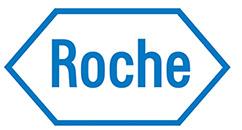 Habitat for Humanity International and Roche became partners in 2016. In July 2016, Roche, the world's leading research-based healthcare company, and Habitat for Humanity signed a two-year partnership agreement to help vulnerable families affected by the 2015 earthquakes in Nepal. By the end of the project, at least 500 families from the Nuwakot district, will have built, rehabilitated or retrofitted their homes and by building back safer and stronger structures the families will be better prepared for future disasters.

The Swiss Capacity Building Facility (SCBF) is a public-private development partnership promoting financial inclusion for low-income people in developing and emerging economies. SCBF cooperates with Habitat for Humanity since 2013 in building capacities to expand the housing micro-finance sector in Africa (Rwanda, Democratic Republic of Congo), Asia (Cambodia, Sri Lanka) and Latin America (Ecuador, Nicargua, Honduras and El Salvador).

The Umdasch Group, headquartered in Austria, is an international company with three divisions specializing in formwork and scaffolding solutions, designing and building retail spaces, and investing in startups and new technologies. The Umdasch Group places great emphasis on social responsibility and has committed to sponsoring house construction in the United States and supporting the Carter Work Project. Employees from the US-based Doka subsidiary will actively participate in a series of volunteering events on construction projects across the United States and help build decent houses.

Wienerberger AG has partnered with Habitat since 2012 helping those in need to improve their living conditions by providing products, financial support, professional expertise, and sending employees as volunteers on building sites. Since then, Wienerberger has extended the partnership for the fourth time, another 3-year cycle to support Habitat's home reconstructions and residential and non-residential repairs projects in Bulgaria, Great Britain, Hungary, North Macedonia, Poland, Romania, Slovakia, and the United States. Wienerberger also has engaged in Habitat's advocacy efforts with the aim to increase awareness of housing problems and advocate for better policies in Central and Eastern Europe. Throughout the years our partnership has broadened its commitment through inclusion of Tondach and Pipelife subsidiary companies for roof and pipe products. The latest partnership calls for Wienerberger to construct or renovate more than 300 homes and help many more people through influencing housing policies in the region.
Cumulatively we helped more than 4,910 people and have worked with the most vulnerable families and individuals in need of a decent place to live in. The advocacy efforts and changes in legislation on the national and municipal level that we were able to push through have affected more than 900,000 people.