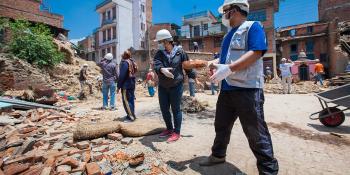 Disaster Response
Europe, Middle East and Africa
Devastating natural disasters happen around the world every year. War, conflict and civil unrest also create millions of refugees and internally displaced people. Families left homeless by disasters and refugees returning to their homelands face uncertain futures, often confronting dire housing needs as they struggle to rebuild their lives.
The devastating effects of disasters
Disasters cause losses that exceed the community's ability to cope without help. It is a situation in which the community's means to sustain life with dignity have failed, requiring external assistance to overcome.
The mission of Habitat's Disaster Response
To develop innovative housing and shelter assistance models that generate sustainable interventions for people vulnerable to or affected by disasters or conflicts. In addition, Disaster Response builds the capacity of the global Habitat community in the areas of disaster mitigation, preparedness and recovery through education, training and partnerships.
More than 50,000 families worldwide have been served under Habitat's disaster recovery programs.
By giving the communities the means to rebuild, Habitat has been able to support, empower and work with families in building recovery shelter and housing solutions.
Disaster Response programs
• Learn more about our active and completed disaster response programs
How you can help
Your contribution to our Disaster Response efforts are of infinite value for the families we serve
Disaster Response works with families in building recovery housing, with the goal of putting communities back on their feet and helping them stay there.
Donate to Disaster Response
 
Disaster Corps provides field and technical support to Habitat for Humanity affiliates in post-disaster areas to help facilitate community-based recovery. 
Donate to Disaster Corps
Make a difference in the lives of those affected by disasters and conflicts.