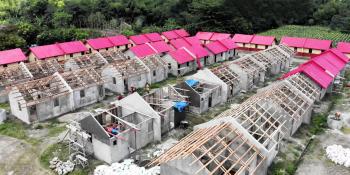 Habitat's Terwilliger Center for Innovation in Shelter invites startups in Southeast Asia and South America's Andean region to meet global housing challenges.
ATLANTA/BRATISLAVA (Oct. 29, 2020) — The Hilti Foundation, the philanthropic arm of the Hilti Group, and Habitat for Humanity have extended their partnership, including a new project in Nepal promoting the use of bamboo as a disaster-resistant housing solution. The Nepal initiative, which will lead to 10,000 new homes in the Eastern Terai region, is part of the two organizations' renewed focus on scaling innovative shelter technologies globally and increasing access to affordable, decent housing beyond 2025.
The Hilti Foundation and Habitat aim to help millions of people around the world gain access to affordable housing. The two organizations will work with a diverse coalition of partners, communities and government officials to advance long-term, scalable housing solutions. They will also host forums to foster innovation and collaboration among global housing advocates to accelerate the adoption of affordable shelter solutions within housing markets.
The spread of the COVID-19 virus has heightened the role affordable housing plays in protecting families' health and financial stability. The pandemic has compounded an existing global crisis – each year millions of individuals are displaced from their homes due to disasters. The need for sustainable, affordable housing is urgent and continues to grow at an exponential rate. 
"Homeownership is intricately tied to better opportunities for families and a major factor in ending the cycle of generational poverty," said Jonathan Reckford, CEO of Habitat for Humanity International. "Adequate, affordable housing reduces inequality and builds resilience against economic and natural disasters. That's why it is so critical that we work together to address the global housing crisis. We are grateful for committed partners such as the Hilti Foundation in developing affordable housing solutions."
The Hilti Foundation and Habitat have planned several initiatives to meet the specific needs of different regions:
The partners will continue to build and scale disaster-resistant and affordable houses with the Hilti Foundation's Cement Bamboo Frame Technology in Negros Occidental, the Philippines, while piloting construction for the project in Nepal. The partners plan to build 50,000 Habitat homes across five different countries, aiming to make bamboo a building material of choice for inclusive social housing in Asia.


 

The Hilti Foundation is committed to advancing entrepreneurial housing products, services, and technologies through Habitat's Terwilliger Center for Innovation in Shelter. Its support of Habitat's

ShelterTech

 and Shelter Venture Lab programs puts entrepreneurs at the center of a highly connected ecosystem of collaborators to ensure families most in need have access to appropriate and affordable housing.


 

Beginning next year, the partners will host a series of regional housing forums across Africa, Asia, Europe and Latin America to accelerate the adoption of affordable housing. Participants will include academics, corporate executives, public officials, non-governmental leaders, and top global housing innovators. The forums are a key element of Hilti Foundation and Habitat's new initiative promoting cross-sectoral collaboration for sustainable impact at a large scale.
"It takes some courage to break new ground for development. At the Hilti Foundation we have the ambition to take calculated risks in testing new approaches and, when a concept proves successful, bringing it to scale," said Johann Baar, a member of the Hilti Foundation Executive Board. "We are grateful to have found a strong and trusted partner in Habitat for Humanity who shares this ambition, and who helps us test and scale innovative ideas for better and safer housing for families in need across the southern hemisphere."
The Hilti Foundation and Habitat have been partners since 2012. To date, their partnership has served over 4.5 million people and built or improved over 900,000 homes.
About Habitat for Humanity
Driven by the vision that everyone needs a decent place to live, Habitat for Humanity began in 1976 as a grassroots effort on a community farm in southern Georgia. The Christian housing organization has since grown to become a leading global nonprofit working in local communities across all 50 states in the U.S. and in more than 70 countries. Families and individuals in need of a hand up partner with Habitat for Humanity to build or improve a place they can call home. Habitat homeowners help build their own homes alongside volunteers and pay an affordable mortgage. Through financial support, volunteering or adding a voice to support affordable housing, everyone can help families achieve the strength, stability and self-reliance they need to build better lives for themselves. Through shelter, we empower. To learn more, visit habitat.org.
About the Hilti Foundation

The Hilti Foundation is a joint venture of the Hilti Family and the Hilti Group. With its focus area "Affordable Housing & Technology", it promotes pioneering housing solutions helping families in need improve their housing situation and start into a better, self-determinant life. To achieve its goals, the foundation engages in long-term relationships with trusted partners testing and driving innovative models and ambitious projects for sustainable impact at scale. Besides Affordable Housing & Technology, the Hilti Foundation focuses on "Music for Social Change" and Economic Empowerment to empower individuals and communities to shape their own future. For more information please visit www.hiltifoundation.org.