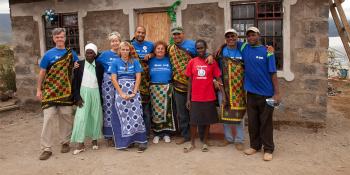 Global Village Trip Schedule
Europe, Middle East and Africa
Coronavirus impact on Global Village builds
After a three-year hiatus caused by the COVID-19 pandemic, Habitat's Global Village volunteer program is gradually resuming. We have relaunched volunteer opportunities within regions and are making careful plans to restart a retooled and even more impactful version of the global program.
At present, we mostly offer volunteering opportunities to closed groups. These can be corporate teams, groups from institutions, academia or faith based groups, and even friends and family who want to fundraise and work for a good cause.
Please note our Europe wide program for individuals who wish to volunteer aboard is suspended. If you are based in Germany ([email protected]), The Netherlands ([email protected]) or Ireland ([email protected], please contact your local office to check on the latest situation.  
There are many ways to get involved with Habitat for Humanity near you. Please contact your local Habitat office to find out how to volunteer in your local community. 
In the meantime you can keep up-to-date with our news and follow us on social media and share our stories.
We need your help.
Even though, we cannot offer you any Global Village trips in this moment, you can still help the families around the world by making a donation. Everyone deserves a safe, decent and affordable place to live.