Living in a home safe enough for her children to play in the yard is something that Lanay and her family are still getting used to. It's a good feeling.
"This is a new experience for all of us," Lanay says. Her oldest daughter, Tomanique, 12, has been giving her new roller skates a test drive, and her brothers are learning to ride a bike and a scooter.
The family had been living in an apartment in Cincinnati, Ohio, on a street where crime and gunshots were commonplace. "We had to do a lot of indoor things, which was terrible," Lanay says. "I said, 'I refuse to live like this.'"
Lanay decided to partner with Habitat for Humanity of Greater Cincinnati. She put in the 250 hours of sweat equity on her home, all while working in a nursing home, attending nursing school and taking care of her three children: 8-year-old Tomanique, 4-year-old Jimmella and 3-year-old Jimmell. There were many days that Lanay didn't think she could handle everything. "When I looked at my kids, they motivated me," she says.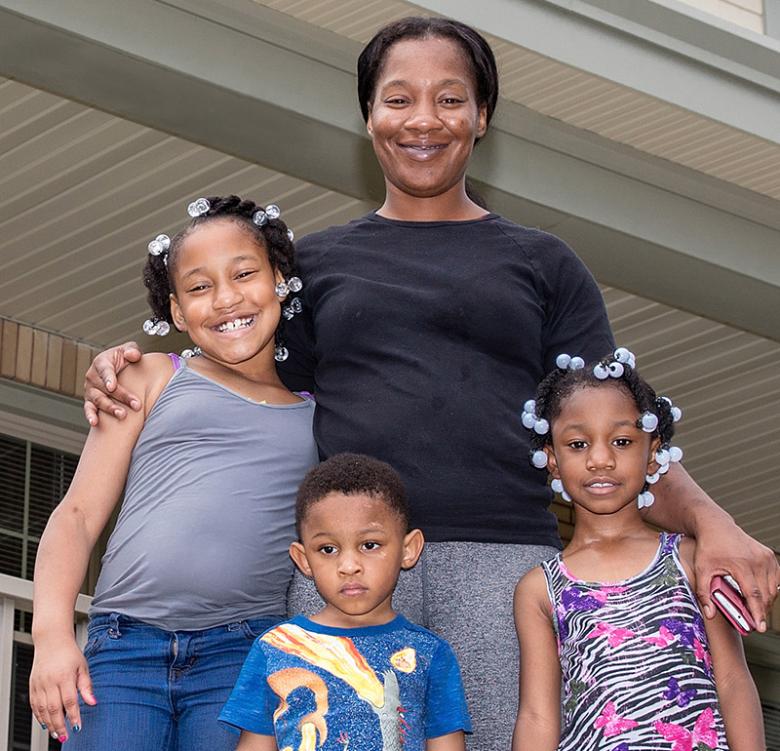 All of Lanay's hard work has paid off. "Look at this home. It is gorgeous," she says. "I worked so hard for my kids to have this. I am so proud of myself." As she pays the house's affordable mortgage, she also says that she is setting a good example for her children. She felt proud when her daughter said, "Mama, I want to be just like you."
Lanay loves the charm of her brick home, which was preserved through a rehab. "It's just so calming to me. The kids love hanging out in the basement." And Tomanique is excited about her new school. "Learning means a lot to her," Lanay says. "This school district is known to be great, so that's a big plus."
But it's feeling safe enough to go outside, to play in their own yard, that they all love. "This is new," Lanay says, "but we are learning together."
Please donate now
Families who partner with Habitat for Humanity are extremely grateful for your help.