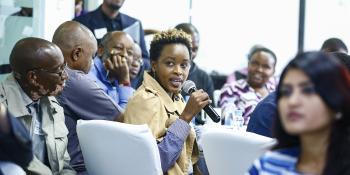 Frequently asked questions
Read some of the most frequently asked questions regarding Habitat's ShelterTech platform and startup accelerators.
ShelterTech program FAQ
ShelterTech is the world's leading platform for affordable housing innovation, advancing entrepreneurial shelter solutions that can radically improve the lives of low-income families.​

Through accelerator programs, catalytic funds, events, the knowledge hub and more, we aim to create a global network of affordable housing game-changers and equip them with the right tools and information to help bring their solutions to the 1.6 billion people across the world who lack decent and affordable housing.
The platform is open to individuals and organizations – startups, scaleups, small and large corporations, foundations, incubators, investors – who want to be in the know and connect with like-minded innovators and market-based players in the affordable housing sector.
You will be able to:

Access the latest technology and innovation in the affordable housing field.

J

oin exclusive events and learn from sector experts and successful businesses.

C

onnect with investors and ventures who are transforming the shelter sector.

L

everage Habitat for Humanity's and partners' years of expertise and resources in understanding and building inclusive housing markets.
Habitat for Humanity knows that a safe, decent, affordable home is fundamental to the health and well-being of families. The need for affordable housing is immense, and the lasting impact it can have on homeowners and their families is undeniable. ShelterTech's mission is to bridge the gap between great ideas and real opportunities in the shelter space through a supportive ecosystem that grows impact and improves people's lives. 
Absolutely. The pandemic has further revealed the important role that housing plays in both ensuring health and safety, while contributing to economic recovery. Innovation in the housing space is more important than ever. 

We have adapted the platform and accelerators to take into consideration the new challenges posed by COVID-19, providing virtual support to startups, partners and other stakeholders. 
Companies that join ShelterTech will have access to industry linkages and investor connections, culminating with an investor roadshow. During that period, startups will have the opportunity to pitch to investors in the ShelterTech network, including Habitat's Shelter Venture Fund.
The platform is designed for startups, scale-ups, corporations and all partners that have a commitment to addressing the affordable segment. You may have a product targeting the affordable segment already or a product that is focused on the middle- or higher-income markets but with a plan of moving down-market.
The platform is designed to support shelter startups that have a: 

Compelling cases of shelter impact to low-income households. 

Minimum viable product.

Aspirations and potential for scale.

Full-time team working on the startup. 

Acceptance into the platform will depend on the application pool and fit within the cohort, among others. 
ShelterTech focuses on seven themes across two focus areas. Within core housing, the themes are material, labor, finance, land and markets. Under allied services, the themes are water and sanitation, and energy. 
ShelterTech welcomes solutions that can tackle more than one theme. However, during the application process, please select the theme with the closest fit for your product or service. 
English is the main language for ShelterTech's accelerators, so you need to be proficient enough to communicate with other participants in the program. Spanish is the main language for accelerators and events taking place in Latin America.
The housing deficit is a global problem and so our solutions to it must also be. ShelterTech is keen to hear from and advance entrepreneurs from anywhere in the world. However, engagement and support might vary based on location and existing networks.