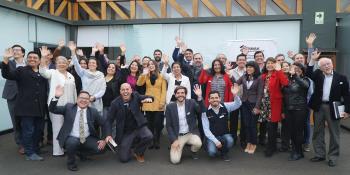 Find out next steps to apply to be a part of ShelterTech accelerators, apply for catalytic funds, or inquire about becoming a partner, investor or mentor with the ShelterTech platform.
ShelterTech accelerators
ShelterTech has come to Southeast Asia and the Andean region seeking disruptive products and services with the capacity to improve housing livability and affordability for low-income families.
We are proud to announce ShelterTech's 2020 cohorts. Learn more.
The accelerator is an online platform to fast track startups and scaleups by providing customized learning and support through pilot testing, peer sharing, learning labs, mentorship, investor connections and much more.
Important dates
Our applications are now closed. Check back for important dates for our next accelerator.
Accelerator participants
Startups and scaleups for the Southeast Asia and Andean region accelerators are based in one of the following countries:

Southeast Asia: Cambodia, Indonesia, Malaysia, Myanmar, the Philippines, Singapore, Thailand and Vietnam.

Andean region: Bolivia, Chile, Colombia, Ecuador and Peru. 
Be legally incorporated as a for-profit entity.
Have a minimum viable product.
Have meaningful customer or business validation.
Be working toward products and services that can improve housing livability and affordability.

We are open to innovations that have the potential to disrupt the affordable housing sector. However, we are most passionate about startups and scaleups with housing-related solutions in sectors such as materials, labor, finance, land, markets, energy, and water and sanitation — particularly those whose innovations can address challenges related to COVID-19.
ShelterTech participants are pioneers within the world's leading platform for affordable housing innovation, joining a thriving ecosystem at the forefront of today's most pressing global shelter challenges. Selected startups and scaleups receive stage-agnostic support and catalytic funds.
Catalytic funds
The ShelterTech platform offers catalytic funds of up to US$25,000 for ventures to better position themselves for growth and scale.
We are now accepting applications for catalytic funds in India. Learn more about the catalytic funds and how to apply.
Other ways to get involved
Are you passionate about the affordable housing sector and looking for a way to get involved with ShelterTech to help lift up housing solutions that radically improve the lives of low-income families?
Accelerator participant applications are now closed. If you are interested in becoming a mentor, partner, investor or finding another way to participate, fill out our inquiry form.
Subscribe
Be in the know about everything that's happening on the affordable housing sector and sign up for future opportunities.