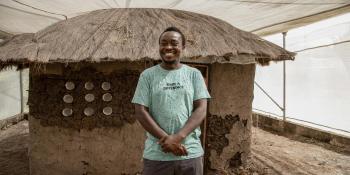 Are you passionate about the affordable housing sector and looking for a way to get involved with ShelterTech to help lift up housing solutions that radically improve the lives of low-income families?
ShelterTech accelerator sub-Saharan Africa
ShelterTech is expanding across sub-Saharan Africa, and it is accelerating disruptive solutions in the shelter space to improve housing livability and affordability for low-income families.
Launched at the Africa Housing Forum – the region's primiere venue for collaboration and sharing of ideas, experiences and lessons on addressing housing ecosystem issues – ShelterTech accelerator sub-Saharan Africa aims to fast-track innovations from the private sector that provide scalable answers to today's affordable housing challenges.
The program provides startups and scaleups with the connections, knowledge, visibility and capital they need to thrive and impact the lives of millions of people through housing solutions.
Who are we looking for?
Startups and scaleups must be based in countries located in sub-Saharan Africa.
Be legally incorporated as a for-profit entity.
Have a minimum viable product.
Have meaningful customer or business validation.
Be committed to solve challenges to improve the livability and affordability of housing for low-income families.
Sectors
With ShelterTech, we are most passionate about these sectors:
Core housing
How will the accelerator support your growth journey?
ShelterTech startups become part of the world's leading platform for affordable housing innovation, joining a thriving ecosystem at the forefront of today's most pressing global shelter challenges, with unique offerings that include:
Still undecided?
Read more about our global portfolio and ecosystem to understand how ShelterTech can benefit your organization. Join ShelterTech today.
Want to support the accelerator?
We partner with global industry leaders to efficiently grow and refine their impact initiatives. Contact us today to be at the forefront of housing social innovation.
Subscribe
Be in the know about everything that's happening with Habitat's Terwilliger Center and ShelterTech.