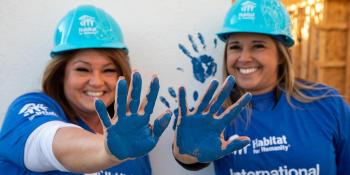 9 interesting facts about Habitat for Humanity
Learn more about Habitat for Humanity's past, our most famous supporters, how we work with families and more.
1. We had our first meeting in an old chicken barn.
The organizational meeting that led to the formation of Habitat for Humanity took place in 1976 inside a converted chicken barn in South Georgia on Koinonia farm. With our exponential growth in the intervening years and the tremendous support of people like you, Habitat homeowners around the world have achieved the strength, stability and independence they need to build better lives for themselves. Today, our work together has helped millions of families.
2. We know a lot of people.
Our six Habitat Humanitarians include President Jimmy Carter and Rosalynn Carter, Garth Brooks and Trisha Yearwood, and Drew and Jonathan Scott. Habitat Humanitarians are a group of volunteers who also serve as tireless champions, advocates and spokespeople to raise awareness of the need for decent, affordable shelter in the U.S. and around the world.
From presidents to actors to athletes, several influential people have supported us through the years, including:
Barack and Michelle Obama
Bill and Hillary Clinton and their daughter, Chelsea
George W. and Laura Bush
Gerald Ford
Vanessa Williams
Isaiah Roby
Deshaun Watson
Katie Couric
Rachael McAdams
Cher
Evander Holyfield
John Elway
Jet Li
Bob Hope
Kurt Warner
The volunteers who work with Habitat every year aren't just prominent leaders and celebrities, they're your next-door neighbor, your work colleague or a person like you just looking to make a difference. We always have room!
3. We see the benefit of working side by side every day.
Families who partner with Habitat help build their own homes alongside volunteers and pay an affordable mortgage. Homeowners invest their time, money and sweat in building their house. They work beside volunteers who work hard to help them construct a home. The money from their mortgage goes toward helping another family realize their dream of homeownership.
4. We like to keep the spirit of Christmas all year.
Every year since 2007, lumber milled from the Rockefeller Center Christmas Tree has been used to help a family build their Habitat house. Tishman Speyer, the owner and operator of Rockefeller Center, generously donates that lumber to Habitat, and company staff members build alongside a family.
5. We wear many (hard) hats.
In addition to building new houses, we also partner with families in need of a new roof, a wheelchair ramp or other vital repairs. We work in hundreds of communities across the U.S., helping residents revitalize their neighborhoods. On the global scene, our disaster response and recovery efforts provide shelter assistance, education and training to areas affected by hurricanes, earthquakes and other disasters.
Beyond building and repairs, Habitat for Humanity has an extensive advocacy effort in the U.S. and abroad. This effort works to improve less visible aspects of housing, like laws, regulations, systems and polices that effect affordable homeownership. Our Cost of Home campaign is a leading effort to eliminate barriers to adequate, affordable housing.
Through our Terwilliger Center for Innovation in Shelter, Habitat works within the local housing landscape for areas around the world. This allows for support of local firms and expansion of innovative and client-responsive services, products and financing, allowing homeowners to improve their shelter more effectively and efficiently.
6. We like a challenge.
The record for building a new Habitat house in the least amount of time was established in Alabama's Shelby County — 3 hours, 26 minutes and 34 seconds, breaking the previous record of 3 hours, 44 minutes and 59 seconds. Whenever possible, Habitat builds and improves homes using the latest technologies. From Energy Star-rated appliances to solar panels, innovations allow homeowners to save money on energy costs.
7. We're big into recycling.
Habitat ReStores sell new and gently used furniture, home accessories, building materials and appliances to the public at a fraction of the retail price. These nonprofit stores are owned and operated by local Habitats, with proceeds going to build homes, communities and hope locally and around the world. Find a ReStore near you.
8. We have a following.
Habitat's social media presences reaches a combined audience of more than 2 million followers. Are you one? Interestingly, the most-watched video on our YouTube channel celebrates how a donated doorknob helps Habitat do more (via our ReStore) and currently tops 320,000 views.
9. We can't do it without you.
At Habitat, we believe that every child needs a place to call home. A place where they can grow up healthy, be safe and learn. Your tax-deductible donation – no matter the size – can help a family build a more secure future. Give today!
Subscribe to our monthly newsletter
Get the latest Habitat news, volunteer opportunities, DIY tips and more ways to get involved.