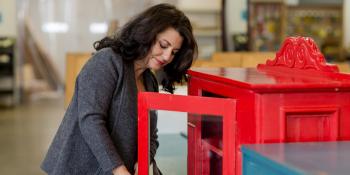 The Habitat ReStore shopping experience
Great stuff. Great prices. Great cause.
To shop at Habitat for Humanity ReStore is to go on an adventure.
In addition to an ever-changing selection of new and gently used home improvement materials, you also could find things like great items in a silent auction, a concert given on a piano that's for sale or even a coffee shop.
Not your ordinary thrift store, proceeds from Habitat ReStores are put to use to help build strength, stability and self-reliance through shelter in your community and around the world.
There are many great reasons to shop at Habitat ReStores. Here's a very short list:
What kinds of things will you find at Habitat ReStore?
Habitat ReStores sell new and gently used building materials, furniture, appliances and much more. When items are donated to Habitat ReStore, they get a chance at a second life rather than being taken to a landfill.
Depending on what's been donated to any given Habitat ReStore, you may find items like kitchen cabinets, appliances and lumber from a home restoration. You could find lockers from a university building deconstruction project There may be unique treasures like DIY lamps and art. You might even find experts teaching classes on how to use tools for DIY projects.
However, the great stuff you find at great prices when you visit Habitat ReStore is only part of the reason shopping here is so great. In addition, you are supporting Habitat for Humanity.
Where does the money from your Habitat ReStore donation go?
Proceeds from Habitat ReStore sales go to Habitat for Humanity's mission to help build strength, stability and self-reliance through shelter. This work is done both in your community and around the world. As we've noted on our Shop page, when you shop ReStore, you help Habitat build.
There are nearly 900 store locations in the U.S., so there's bound to be a Habitat ReStore location near you. Use the search box below to find the location, phone number and web address of the store nearest you.
Enter your ZIP code to find the Habitat ReStore nearest you.