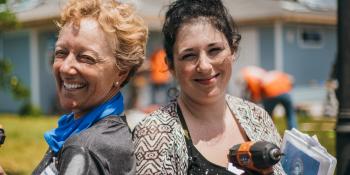 Homeowner continues her Habitat journey through AmeriCorps
Jessica wasn't ready for her journey with Habitat for Humanity to end after holding the keys to the house she helped build. Inspired by the staff and volunteers who helped make her family's future more secure, the mother of three saw her new Habitat home in Naples, Florida, as the springboard to help other families soar.
"From the second that I walked into the Collier County office, I knew that not only did I want to help my family find a home," Jessica says, "but that I would love to help Habitat in whatever way I could."
The opportunity to fulfill that calling presented itself: an AmeriCorps VISTA position with Habitat Collier County's family services department. Across the country, AmeriCorps VISTA members have devoted their skills to building the capacity of local Habitat offices nationwide. As a result of their efforts, Habitat has more effectively delivered on our mission of bringing people together to build homes, communities and hope.
For Jessica, a U.S. Army veteran, the VISTA position was a way to feed "her heart for service." The 34-year-old knows firsthand how difficult it can be for families to find a path to a better future.
After her husband died, Jessica was left to provide for their children, now ages 13, 11 and 9. A Habitat home was the path that the family had been searching for. "It's honestly the difference between living in survival mode and wondering what comes next versus being able to have hope," Jessica says. "You're not worried about if you're going to be able to afford your next rent payment or if you are safe. With a stable home, you have everything you need to thrive — and now my kids have that."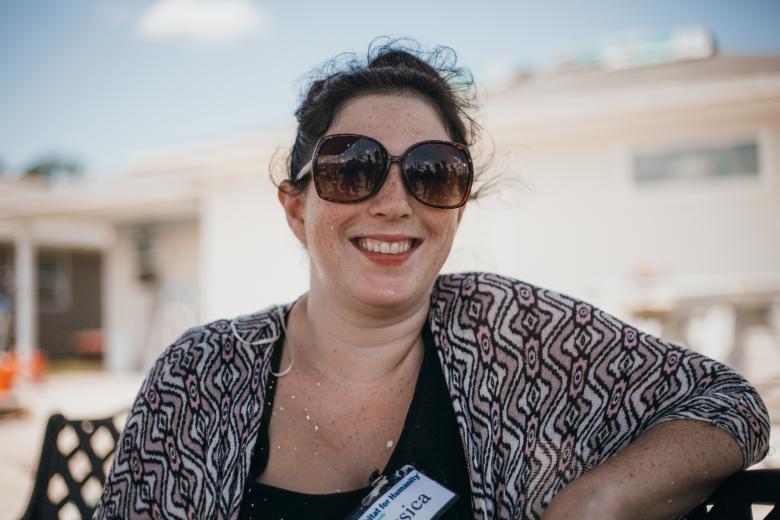 After partnering with Habitat, Jessica returned to school to earn an MBA. As her graduation date approached, she decided to apply for the AmeriCorps VISTA position. She accepted the one-year term, and then reupped for a second. During that time, her focus was measuring the impact of Habitat's work in southeast Florida, which has given her practical hands-on experience in areas she studied in business school.
Jessica was part of a survey team that partnered with the local school system to look at how moving into a Habitat home affected student performance and how that performance compared with the general population. "The kids [in Habitat homes] really do very well in school," she says.
She also worked closely with families to determine what effect Habitat homeownership has had on their careers, health and overall wellbeing. Other tasks have included gathering resident insights on Habitat Collier County's relief efforts following Hurricane Irma and seeking to quantify hurdles that Naples' older residents face when it comes to housing security. Habitat Collier County's team is using these findings to improve their practices, expand programming and strengthen Habitat's relationship with families.
The service opportunity has had Jessica go door-to-door speaking with residents, which, in turn, has helped her form deep connections with her larger community. When homeowners asked questions or brought up issues that they faced, she often took it upon herself to figure out the answers — researching everything from water systems and drainage easements to parking issues. "I can see the importance and impact of being involved in the community," Jessica says.
Before AmeriCorps, Jessica didn't think she had what it took to drive this type of work. "The staff has helped me realize what my strengths are," she says. "Thanks to them, I know what I'm capable of. Previously, I just looked up to leaders I knew in the community; now I can stand alongside them." The trust instilled in her led Jessica to join the homeowner's association in her neighborhood, which has only made her value the community even more. "It's been a ripple effect for sure," she says.
That ripple extends to next generation of leaders — in Jessica's own house. Inspired by their mom, her three kids have taken up the call of service too. They started their own kids-only homeownership board where they meet to discuss how to be better neighbors to each other and better stewards of their community. On the most recent docket was trash pick-up and a safety discussion about playing in the street.
"I'm so proud of them," Jessica says. "Between our home and now AmeriCorps, Habitat has provided so many opportunities for me and for the kids. Opportunities that are going to last a lifetime."