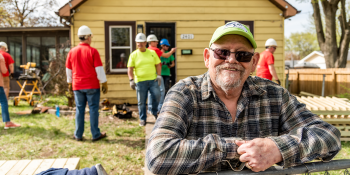 Robert and Glenda were married in the backyard of their Des Moines home and spent more than two happy decades together under its roof. Throughout the years, Robert, a former construction superintendent, made updates like installing kitchen cabinets, adding new flooring and building a walk-in closet for Glenda. "I wanted to make the home safe and more efficient for her," Robert says.
Before Glenda passed away, Robert promised her he would build a new ramp for the front of their home. The couple's two children, 46-year-old Mario and 42-year-old Angela, use wheelchairs. "I put up a temporary ramp to help them get up onto the porch, but it was just a short ramp so it was pretty steep," Robert says. "Any time my son or daughter came to visit, I had to help them up that ramp and then help them up the step because it was still an additional step to get into the house."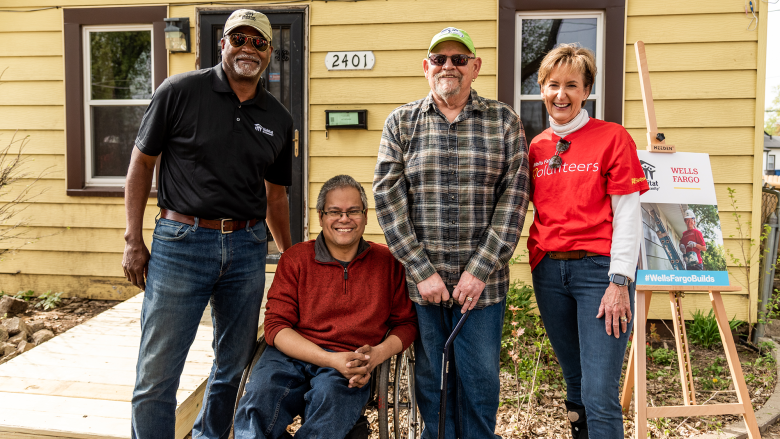 Robert hoped to install a new ramp that would be easier for his children to navigate independently – and fulfill his promise to Glenda – but after a financial setback he couldn't afford to build one. He'd learned about Greater Des Moines Habitat's home preservation program and reached out to see if they could help. The program helps make repairs affordable for homeowners, so they can preserve their homes for generations to come.
A safe and secure forever home
Robert's ramp was built with financial and volunteer support from the Wells Fargo Foundation as part of a $7.5 million donation to Habitat for Humanity International through the Wells Fargo Builds program. Volunteers from Wells Fargo Builds worked together to dig holes, cut wood and assemble his ramp.
"Apart from getting my hands dirty and really feeling that sense of accomplishment, I loved hearing Robert's story," says Abby Spann, a lead business execution consultant for Wells Fargo who has volunteered with Greater Des Moines Habitat for nearly 14 years. "He has a lot of pride in his home, memories he's had in his home, his family being present in that home. And he has a really strong conviction in the importance of safe and accessible housing."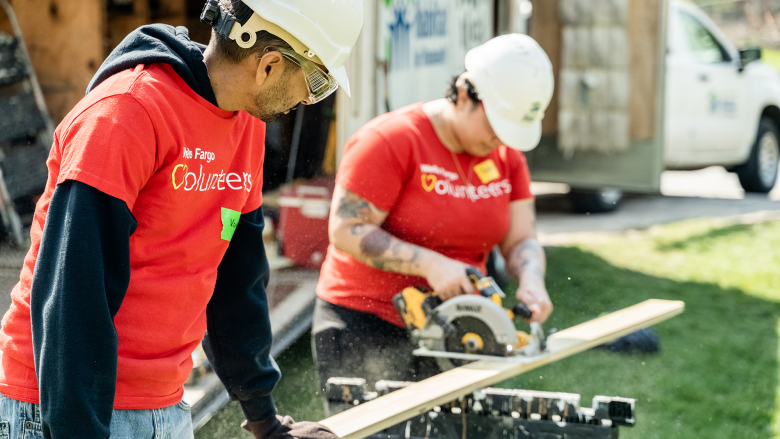 "Robert owns his home, he loves his home, he loves his neighborhood, and he really wants to continue to be a part of that," echoes Lance Henning, Greater Des Moines Habitat's chief executive officer. "The challenges of moving somewhere else would be a lot for him, like a lot of families in our home preservation program that we work with. They own their home and can afford to be there, but they may need some assistance around maintenance."
Now that Robert has a new ramp, his children can visit more easily. "It means the world to me. It gives me the actual ability to have my son come over without me having to physically help him up the steps and everything else," Robert says. "He's able to come in, we visit, and he's able to leave on his own."
On the same day Robert's ramp was built, Wells Fargo Builds volunteers also helped three other homeowners make repairs to their homes. "I think it's really important to Wells Fargo to act both at the macro and micro level to help solve affordable housing issues," Abby says. "At the macro level, funding is provided through the Wells Fargo Foundation. But, also, the small actions — like our team volunteering to help Robert and his family — made a huge difference for him. With the support of companies like Wells Fargo, those small actions really can make a big difference for our communities."
Hummingbirds and happiness
Mario is moving back home soon, and Robert is thrilled to have the new ramp in place for him. "On the landing, there's enough room for me to have two chairs. I can be out there with somebody else, and my son still has the ability to come around that turn without any problem," Robert says.
The ramp also has a special place in Robert's heart because it's the perfect spot for hummingbird-watching – something he used to do with Glenda. "So that's kind of cool. You know, having a place to sit and watch hummingbirds buzz around your head."