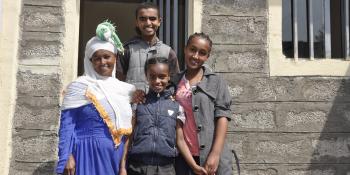 Safe, affordable housing is out of reach for far too many people around the world. Families lacking a decent place to call home are caught in an unending cycle of increasing rent, poor living conditions, financial instability and a lack of access to affordable finance.
Habitat for Humanity knows that everything starts with an affordable place to call home. Decent housing serves as a family's foundation for living healthier, unlocking more educational and economic opportunities, and dreaming bigger.
This is why we build.

A housing affordability crisis in the U.S.
Residents in every state in the U.S. have been impacted by rising housing prices and a shortage of affordable housing options. Nearly one in three households is cost burdened, paying more than 30% of their income on housing, according to Harvard University's Joint Center for Housing Studies.
When low-income households spend more on housing than they can afford, they are forced to cut costs in other essential areas like food, health care and education.
Slow wage growth and limited progress toward improving poverty levels have also contributed to the U.S. housing affordability crisis. Roughly 12% of Americans — 37.9 million people — live in poverty, according to the U.S. Census Bureau. The National Low Income Housing Coalition has found that a worker earning the federal minimum wage of $7.25 would need to work 79 hours per week — or two full-time jobs — to afford a one-bedroom apartment.
Affordable homeownership is even more out of reach for Black and Hispanic/Latino families in the U.S., where systemic and discriminatory barriers and policies have powered a wide racial homeownership gap. The homeownership rate of white households remains 25-30 percentage points higher than those of Black and Hispanic/Latino households.
Experience the Cost of Home
Through our interactive Cost of Home experience you can walk through the decisions a household has to make as they work to cover housing and all their other costs. Could you help them make it work?

Tremendous housing need around the world
Globally, 1.8 billion people live in inadequate housing. Families residing in informal settlements or slums face several barriers to escaping poverty and improving their living conditions, including:
Risk of eviction due to tenuous land policies and lack of formal documentation.
Absence of clean water and sanitation, leading to adverse health effects.
Lack of access to affordable credit and financing to upgrade their homes.
Building materials unable to withstand damage caused by ever-increasing disasters like floods, cyclones and earthquakes.
The need for decent, affordable housing is only growing worldwide. The United Nations estimates that 3 billion people — 40% of the world's population — will require new housing and basic urban infrastructure by 2030.
As urbanization continues to rise, low-income families are often the first to be pushed into unplanned urban slums where overcrowding, substandard housing and safety concerns pose major risks to their physical and mental well-being.

The difference a decent and affordable place to live can make
Research shows the profound impact housing can have on nearly every facet of life. From creating wealth to reducing stress, here are just a few ways housing can be transformational:
Poverty reduction and financial independence

: U.S. homeowners have an

average net wealth that is 400% higher

than that of renters with similar demographics and earnings.

Improved physical and mental health:

Decent housing reduces stress and the spread of disease while promoting good sanitation and hygiene practices.

Increased academic achievement for children:

Housing stability is strongly linked to educational success and cognitive development for children.

Building intergenerational wealth:

Children of U.S. homeowners have

homeownership rates 25 percentage points higher

than the rate of children of renters.

Improved resilience to disasters:

Homes built with quality construction materials and disaster preparedness in mind are more resilient.
View evidence briefs
View Habitat's evidence briefs to learn more about the undeniable impacts of affordable housing.

How Habitat is making an impact
Habitat takes an intentional, hyperlocal approach to working with families and partners to help solve the world's most complex housing challenges.
We work across 70 countries — in the U.S., Canada, Europe, the Middle East, Africa, Asia and the Pacific, and Latin America and the Caribbean — to create a world where everyone has access to safe, secure housing. Through our network, Habitat:
Builds new homes.

Repairs existing homes.

Creates access to small loans for incremental building and home improvements.

Helps families establish title and ownership to land.

Advocates for better laws and systems.

Builds and expands

inclusive housing markets

around the world.
Families partner with us to acquire the access, skills and financial education necessary for them to improve their living conditions and repay an affordable mortgage or loan. In doing so, they seize the opportunity and possibilities that decent, affordable housing represents.
With your support, we have helped more than 46 million people build or improve the place they call home since our founding in 1976.
Through shelter, we empower.