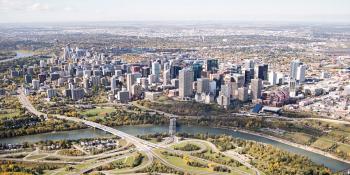 Finding common cause in Edmonton
Edmonton, the capital of Canada's Alberta province, is a growing city, and it will grow a bit more during the 2017 Jimmy & Rosalynn Carter Work Project, for which it serves as a sponsor.
Mayor Don Iveson shared with us the need for affordable housing in Edmonton — and for the 59 new Habitat homes that will be going up in the Laurel neighborhood.
Q: What is the housing situation in Edmonton?
A: We've been the fastest-growing city in the country for the last 10 years, on and off. That's come with a lot of positives, but it's also come with rising housing prices overall and challenges at the affordable end of the spectrum to accommodate growth. We have long waiting lists for social housing that have grown because the economy is tougher these days in Alberta. That's part of why we're so excited to welcome the Carter Work Project here and deliver much-needed houses targeted at families using Habitat's really laudable affordable housing program.
Q:What is your vision of success when it comes to affordable housing?
A: A safe home for everyone is where we'd like to get to. We know our healthcare system and our justice system are overwhelmed by people who, if their housing needs were being met, would draw less on those expensive public services. And so we're looking for savings in those areas by better meeting housing needs. One of the other legacies that we're hoping for is that our Habitat chapter continues to grow. We are the fifth-largest Canadian city, but I'm really proud to tell you that we are the largest Habitat in the country. This is the kind of place where people really do pitch in to build things for each other, literally and figuratively. I'm hopeful the strength of our Habitat movement will grow even stronger as a legacy of President Carter's visit.
Q: Will you have the opportunity to be out there building during the Carter Work Project?
A: I am really looking forward to getting my steel-toe boots on and going out there and swinging a hammer. I'm going to see if I can bring some other mayors with me and certainly my city council colleagues.
Q: You are going to have a lot of people coming to your city for the Carter Work Project. Are you looking forward to seeing the visitors working with the families and volunteers of Edmonton?
A: First of all, we're so grateful to the Carters for bringing people to Edmonton who care about affordable housing and community initiative. We're going to find a lot of common cause because there are so many Edmontonians who feel the same way. I think people are going to hit it off right out of the gate when our guests get here, and we look forward to showing them a good time and benefitting from their hard work.
Subscribe to our monthly newsletter
Get our latest news, volunteer opportunities, DIY tips and other ways to get involved with Habitat for Humanity.