With your support, Habitat's vision of a world where everyone has a decent place to live comes to life every day. Again and again, all around the world. Each Jimmy & Rosalynn Carter Work Project is a wonderful chance to celebrate that vision.
"We get to see despair transform into hope over and over," President Carter has said. "We get to see changes in the lives of people who have moved into new homes and who now have new hope."
Meet two proud and excited future Habitat homeowners, families for whom the 2017 build in Canada is the long-awaited beginning of a brighter future.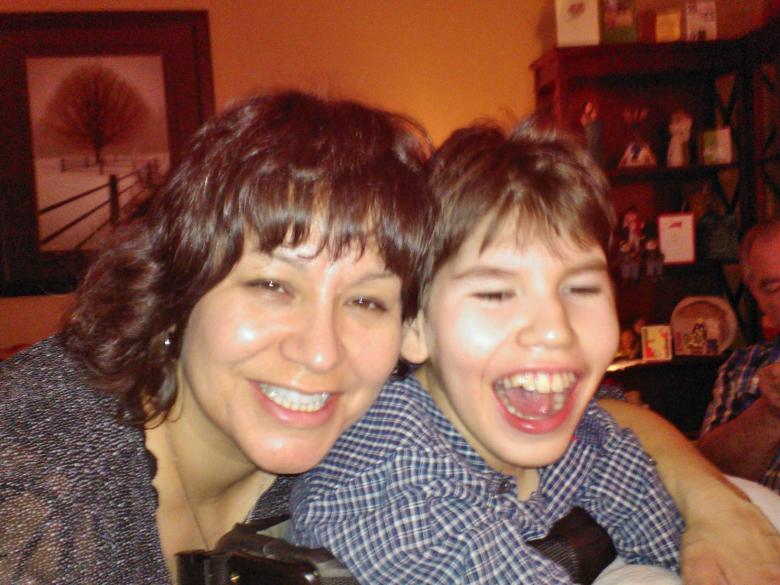 Carla and Ethan
As Ethan entered his teen years, his mother contemplated two futures: moving to a home that could accommodate Ethan's disabilities or separating. "If I wasn't able to find a home," Carla says, "he would end up in someone else's care."
Carla now is thinking about their soon-to-be life in their new Habitat home in Edmonton, capital of Canada's Alberta province. The house is one of 150 being built this July in Canada during the 2017 Carter Work Project. "It is a home that will be ours and will be perfect for Ethan," Carla says.
Fifteen-year-old Ethan is a happy boy who loves music, going to school and being read to. "He has a really good disposition," his mom says. The challenge has been figuring out how to navigate life with Ethan's physical and cognitive disabilities, the result of the brain damage that occurred during birth. Ethan has cerebral palsy and doesn't walk or talk.
When Ethan was younger, his mother and caregiver managed obstacles like the stairs or doorways in their rental home that weren't wide enough for a wheelchair. But as Ethan hit a growth spurt, he was more difficult to lift. "It became a safety issue," Carla says. "I knew I had to figure out a way to get us a home and get it adapted for Ethan so I could continue to keep him with me. Or else there would come a point when I was not going to be able to physically do it."
Carla looked at other rentals but couldn't find an acceptable solution. "Accessibility was the biggest issue," she says. Then she considered Habitat for Humanity Edmonton.
Carla works full-time as a program facilitator for women entering various trades. She is learning new skills herself while spending her Saturdays on build sites earning the sweat equity hours that Habitat requires. "The sense of homeownership and pride — it is just an awesome atmosphere," Carla says.
Even more awesome is the home that she is building for herself and her son. It has an entrance with no stairs, wider hallways and a roll-in shower. "And I can keep Ethan with me," Carla says, "which is the absolute perfect scenario."
Todd, Chloie and Carmin
Owning a home is an investment in the future, Todd says. More precisely, it is an investment in the futures of his daughters, 9-year-old Chloie and 7-year-old Carmin.
"For me, my life right now is for my kids," Todd says. "My goal is to set them up for the future, and they can take it from there. I think that is what most parents want."
For the past four years, Todd and the girls have been renting a small condo in Winnipeg, the capital of Canada's Manitoba province. A house will give both of the outdoorsy girls a place to romp.
"To have a yard to go out and play in will definitely be better for them," Todd says. It also will allow the girls to discover more about who they are. For now, Chloie likes math, French and reading, while her little sister is a ball of energy and climbs on anything climb-able. "As the next few years come along," Todd says, "their individuality is going to grow even stronger."
Todd, a brick mason who has done plumbing and HVAC work, loves the idea of building his own home. And he's been working hard to get his financial house in order so that he could. "It was one step at a time, but I finally did it," Todd says. "The idea of owning a home has always been in the forefront of my mind. And now I can."
Subscribe to our monthly newsletter
Get our latest news, volunteer opportunities, DIY tips and other ways to get involved with Habitat for Humanity.