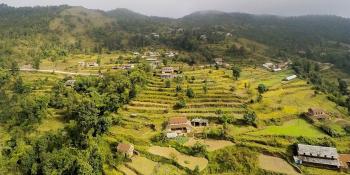 Learn more about the Habitat for Humanity Global Village program.
What is a Global Village trip?
A Global Village trip is a short-term service trip where you can volunteer abroad or in your home country with Habitat for Humanity.
All trips vary based on the country and itinerary, but all of them include a mix of work, rest and free time. It is our desire that these trips not only utilize your skills to build safe, affordable houses in places where they are desperately needed, but also give you the opportunity to see another culture up-close and live like a local.
How much does it cost to take a volunteer trip with Global Village?
Trip costs range between $1650 - $2500.
Habitat for Humanity's Global Village program works to ensure that trips are well planned and coordinated, safe and constructive for volunteers. The ultimate purpose of Habitat Global Village trips is to improve the housing conditions of families around the world and provide volunteers with rewarding experiences and cultural exchange opportunities.
Why am I paying to volunteer?
The work that you do on your volunteer trip provides shelter for the one family, but the donation that you make ensures that future families can have strength, stability and self-reliance through shelter. Your donations make Habitat's work sustainable and help us continue building after you return home.
What is included in the trip cost?
Again, costs will vary by location, but fees include a donation to the host community's Habitat program, in-country transportation, food, accommodations, select activities and travel medical insurance. Trip costs do not include airfare in and out of the country, activities beyond what is outlined in the trip details, visa and exit fees, any associated vaccines or trip cancellation insurance. For more information, read about your program donation.
Do I need any building or language-speaking skills to volunteer?
We welcome everyone who wants to contribute to our work, no matter your age, background, religion or race. Previous construction experience or fluency in a second language is not required. Please note, however, that manual labor is a part of the trip, so all participants should be in good health. If you are under 18, please see our minor policy.
How does the application process work?
If you're interested in joining a Global Village trip, you'll need to complete a short application to tell us where you're from and where you're interested in going.
During the application you can select up to three trips that you're interested in joining. Leaders from each of the trips you're interested in will contact you to tell you more about the experience and answer any questions you may have. At that time, the leader will also give you instructions for securing your spot on their team.
How far in advance do I need to apply for a trip?
You can apply for any trip listed on our website. As trips fill up, they are removed from the website so it's best to apply now rather than later.
Are you looking for a last minute travel opportunity? Contact our office at [email protected] or 800-HABITAT.
Can I come as an individual or do I need to be part of an existing group?
Habitat offers volunteer opportunities through Global Village for both individuals and existing groups. Visit our trip schedule to view all of the trips open to individuals.
If you'd like to organize a trip for an existing group such as a school, church, business, etc., contact us at [email protected] or 800-HABITAT to discuss locations and timing that work for you and your group.
Can I organize my own trip with an existing group of friends, family or colleagues

?
You sure can! Review the list of locations we're currently building in and contact [email protected] for information on attending a training and next steps to get your team recruited.
I don't see the location I want to visit during a week that works for me. What should I do?
Global Village trips are available in more than 30 locations with opportunities during nearly every week of the year. If you aren't able to find a volunteer team that works for your schedule, please contact us at [email protected] or 800-HABITAT to explore additional opportunities.
I want to bring my son/daughter with me on my trip. What age requirements does your program have?
All volunteers must be over the age of 16 and should be accompanied by a responsible adult. Additional information can be found in our minor policy.
Can Global Village accommodate my special diet

?
Our host programs are able to accommodate typical dietary restrictions. If you have significant concerns, don't let it stop you from serving with Habitat! Contact your team leader to request additional information about meals and what can be accommodated.
How do I fundraise for my trip?
You can find tons of new and unique ideas and information about fundraising for your trip in our Fundraising Handbook.
Global Village volunteers have the opportunity to use the peer-to-peer fundraising site www.share.habitat.org at no additional cost to fundraise for their trip. Once you submit an application to join a team, your leader will share instructions on how to set up your Share.Habitat.org page.
Once you set up your page, family and friends can donate directly to you and your trip.
Advanced fundraising: Start fundraising today for a special event (i.e. wedding, birthday, anniversary) and apply the funds to a future trip. Contact our office at [email protected] to learn how to get started.
Is volunteering in another country safe?
Habitat has a long history of working in other countries, and volunteer health and safety is our top priority. Our partners in these nations know and live in the area, and help ensure a safe and valuable experience for volunteers year after year. We also regularly follow international travel advisories closely. While we cannot guarantee personal safety, we do everything possible to keep volunteers out of harm's way, both on and off the work site, and also include travel medical insurance in the trip cost. However, it is up to each individual to assess the host country and trip details for their own comfort level. You must also be willing to follow the Global Village trip guidelines and follow the instructions of trip leaders and in-country connections for the best experience possible.
I haven't traveled internationally before. How do I prepare?
Well, the great news is that you don't need to speak another language or have previous experience to join! You will likely need a passport, but requirements for passports, visas and vaccines vary by country. Visit the volunteer resources section for additional information.
What health precautions should I take before traveling?
Be sure to visit with your family doctor or a nearby travel clinic as your trip approaches. You should also review the information provided on the U.S. Centers for Disease Control and Prevention website at cdc.gov/travel for traveler's health information, recommended preparations and vaccinations.
Will we complete the house we're building during my trip?
Building a house is no simple task! Construction activities around the world vary in length, but most likely you won't build a house from start to finish in only one week. With the help of your donations, construction continues even after you return home as we work towards a world where everyone has access to affordable shelter.
What can I expect to take away from the cultural activities included in the itinerary?
Your trip isn't just about the work you'll complete on the build site. Global Village trips are holistic experiences in which you'll deepen your understanding of the local culture and community in addition to working alongside homeowners to create strength, stability and self-reliance.
Is my trip cost tax deductible?
Habitat for Humanity International is recognized in the United States as a nonprofit, tax-exempt organization. For many U.S. citizens, the trip cost is tax-deductible. Since the tax laws and the interpretation of those laws are ever changing, we do not provide deductibility instructions; please consult a tax professional for current rules and interpretations. Citizens of other nations (e.g., Canada, Germany, Australia, etc.) will have different rules concerning tax deductibility, based on Habitat's tax status in that nation. Consult a tax adviser for any other specific questions on the deductibility of your trip-related expenses.
You can read more about the trip cost and tax information on our website.
How can I get a matching gift for my donation?
Visit habitat.org/match to find your company's matching gift guidelines. If your donation qualifies for a matching gift, make sure it includes your Habitat ID and event code in order to be applied to your trip cost. Funds that are paid out and arrive at Habitat for Humanity by the payment deadline will be applied towards your trip. Matching gifts that do not meet the payment deadline will be an additional donation to Habitat for Humanity.
Every company has its own schedule for paying out matching gifts. Gifts may be paid out monthly, quarterly or even annually. Touch base with your company to find out what their matching gift schedule is.
Please be sure to indicate your GV trip code (GVXXXXX) and Habitat ID when submitting the required paperwork to your company so that the funds are credited to the correct volunteer.
How long has Global Village been organizing international volunteer trips?
Global Village has been working with volunteers to travel internationally since 1989, nearly 30 years!
Does my team leader work for Habitat for Humanity?
We're lucky to have a passionate and diverse group of volunteer team leaders who spend countless hours organizing the Global Village experience for volunteers. Leaders serve in a volunteer capacity and have successfully completed our training curriculum to effectively facilitate your volunteer experience.
For more information on leading a Global Village trip, read our Global Village team leader FAQs.