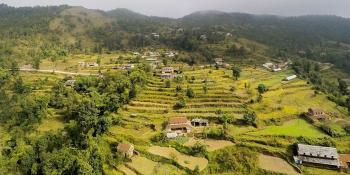 Global Village program FAQs
Find answers to frequently asked questions about the Habitat for Humanity Global Village and Habitat and Thrivent Worldwide programs.
A Global Village program is a short-term service and learning experience where you can volunteer abroad or in your home country with Habitat for Humanity.

All programs vary based on the location and itinerary, but all of them offer a mix of work, learning, rest and reflection. You will not only work in partnership with the community to build or improve safe, affordable housing solutions, but you will also have the opportunity to learn about affordable housing needs and solutions from the local community's perspective.
Program costs range between $1650 - $2500.

Habitat for Humanity's Global Village program works to ensure that programs are well planned and coordinated as well as safe and constructive for volunteers and the local community.

The program donation varies by location, but it includes a donation to the Habitat country program, ground transportation, meals, accommodations, select activities, travel accident and sickness insurance, trip cancellation insurance (international programs only) and in some instances, a subsidy for team leader expenses.

Program donations do not include airfare in and out of the country, activities beyond what is outlined in the program details, visa and exit fees and any associated vaccines. For more information, read about your program donation.
No specific technical or professional experience is needed — a desire to make an impact is enough. Please note, however, that manual labor is a part of the program, so all volunteers should be in good health. 
Our country and affiliate programs are able to accommodate typical dietary restrictions. If you have significant concerns, do not let it stop you from serving with Habitat! Contact your team leader to request additional information about meals and what can be accommodated.
You can find new and unique ideas and information about fundraising for your program in our Fundraising Handbook.

Habitat volunteers have the opportunity to use our peer-to-peer fundraising platform at no additional cost to fundraise for their program. Details on setting up your fundraising page will be provided with your program registration confirmation.

If you are joining a private team, speak with your team leader about fundraising options before accessing our fundraising platform.
Habitat has a long history of working in other countries, and volunteer health and safety is our top priority. Our partners in these nations know and live in the area, and help ensure a safe and valuable experience for volunteers year after year. We also regularly follow international travel advisories closely. While we cannot guarantee personal safety, we do everything possible to keep volunteers out of harm's way, both on and off the work site, and also include travel accident and sickness insurance in the program donation. However, it is up to each individual to review the Habitat country program guidelines and follow the instructions of team leaders and country program coordinators for the best experience possible.
You will likely need a passport, but requirements for passports, visas and vaccines vary by country. Visit the volunteer resources section for additional information.
Be sure to visit with your family doctor or a nearby travel clinic as your program approaches. You should also review the information provided on the U.S. Centers for Disease Control and Prevention website at cdc.gov/travel for traveler's health information, recommended preparations and vaccinations.

All Global Village volunteers must comply with any program country COVID-19 requirements, including but not limited to entry and exit requirements and all health protocols in place at airports and other ports of entry. Any costs related to program country COVID-19 requirements are not included in your program donation and are your sole responsibility. For more information on your program country's COVID-19 requirements, contact your team leader or the Global Village office at [email protected].

Work assignments can involve strenuous physical activity ― sometimes at high altitudes. Team members should be in good physical health when considering a program.

Travel always contains some risks. While Habitat for Humanity International has a comprehensive safety and emergency management plan in place, and all registered volunteers are covered under travel medical and medical evacuation insurance policy, all volunteers participate at their own risk. Volunteers should refer to the volunteer waiver for further information regarding potential risks.
Building a house is no simple task! Construction activities around the world vary in length, but most likely you will not build a house from start to finish in only one week. With the help of your donations, construction continues even after you return home as we work towards a world where everyone has access to affordable shelter.
Global Village and Habitat and Thrivent Worldwide programs are holistic experiences in which you will expand the depth and breadth of your understanding of Habitat's work in the country, learn about the challenges impacting access to decent, affordable shelter and how local communities are addressing these needs by working alongside homeowners to implement housing solutions that build strength, stability and self-reliance. Community interaction activities vary by location and may include visiting local markets and cooperatives and engaging in socio-cultural activities in the region.
Habitat for Humanity International is recognized in the United States as a nonprofit, tax-exempt organization. For many U.S. citizens, the program donation is tax-deductible. Please consult a tax professional for current rules and interpretations. Citizens of other nations (e.g., Canada, Germany, Australia, etc.) will have different rules concerning tax deductibility, based on Habitat's tax status in that nation. Consult a tax adviser for any other specific questions on the deductibility of your program-related expenses.

You can read more about the program donation and tax information on our website.
Visit habitat.org/match to find your company's matching gift guidelines. If your donation qualifies for a matching gift, make sure it includes your Habitat ID and event code in order to be applied to your program donation. Funds that are paid out and arrive at Habitat for Humanity by the payment deadline will be applied towards your program payment. Matching gifts that do not meet the payment deadline will not be applied to your payment and will be considered an additional donation to Habitat for Humanity.

Every company has its own schedule for paying out matching gifts. Gifts may be paid out monthly, quarterly or even annually. Please contact your company to find out what their matching gift schedule is.

Please be sure to indicate your event code (GVXXXXX) and Habitat ID when submitting the required paperwork to your company so that the funds are credited to the correct volunteer.
Habitat for Humanity has been organizing Global Village programs since 1989.
We are fortunate to have a passionate and diverse group of volunteer team leaders who spend countless hours organizing the Global Village program experience for volunteers. Leaders serve in a volunteer capacity and have successfully completed a background screening and our training curriculum to effectively facilitate your Global Village program experience.

For more information on leading a Global Village program, read our Global Village team leader FAQs.