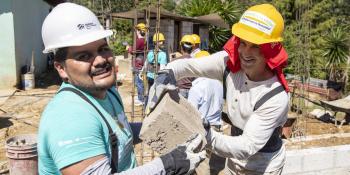 Global Village
Volunteer abroad with Habitat for Humanity
Habitat may work around the corner from you, but we also work around the world. Through Habitat's Global Village program, expand the breadth and depth of your understanding of Habitat's work while volunteering with us in countries across the globe or in your home country.
Global Village program resumption update
Currently, the Global Village program is resuming region by region until a safe and quality experience can be provided at scale worldwide. Our goal is to maintain the health and safety of our staff, volunteers, partners and the people we serve, while also providing them with a high standard of service and support.
During the global pause period, we are also evaluating the program. New program elements are under consideration to be piloted in select communities in spring 2023. As progress is made, we will provide an update via our newsletter. If you would like to be notified about our Global Village program related updates in the future, subscribe to our e-newsletter list.
As always, you can reach us with questions at [email protected]. Thank you for your patience and understanding during this time.
Subscribe
Sign up to receive information about Global Village program updates.
Why volunteer with Habitat's Global Village program?
Our volunteer programs offer the opportunity to learn and serve in your home country or abroad with Habitat for Humanity. When you volunteer with Global Village, you will learn about adequate and affordable housing needs from the local community's perspective and will also contribute to safe and affordable housing solutions. You will work shoulder-to-shoulder with people of different backgrounds, races and religions and build your own global community.
The Global Village program offers an opportunity to understand our differences and discover our commonalities when it comes to housing-related matters. You will discover the crucial role that the spirit of volunteering plays in forming connections with others, even if you do not speak the same language.
Your participation in the Global Village program helps support Habitat's ongoing efforts to ensure adequate and affordable housing around the world. While your personal experience may last for a week or so, your financial and physical contributions can be life-changing for both those in the communities where you work and in your own life. Our hope is that you return home inspired by your Global Village experience and ready to take action by becoming an advocate for adequate and affordable housing within your own community and a committed supporter of Habitat for Humanity's mission.
Learn more about Global Village
Contact Global Village
Email: [email protected]
Phone: 1-800-HABITAT
Mailing address:
Global Village, Habitat for Humanity International
322 West Lamar Street 
Americus, Georgia 31709-3543 USA