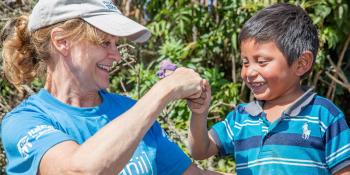 Global Village
Volunteer abroad and immerse yourself in a new culture.
Habitat may work around the corner from you, but we also work around the world. Through Habitat's Global Village's short-term service trips, you can volunteer with us in countries across the globe or in your home country.
COVID-19 impact on Global Village builds
Out of continuing concern for the health and safety of all our staff members, volunteers, partners and the people we serve, and recognizing the increased operational challenges brought forth during the pandemic, Habitat for Humanity International has postponed the resumption of the Global Village program and virtual builds until a safe and quality experience can be provided.
We strive to provide our volunteers and partners with a high standard of service and support. Unfortunately, the pandemic continues to impact the resources needed to deliver the Global Village experience to the standard necessary at this time.
We encourage our volunteers to join us instead for Celebrate & Learn calls with our partner countries. These monthly calls include updates and latest news from Habitat country staff in addition to initiatives and projects organized by Habitat for Humanity International. Each call is themed with a different country or topic as a way for volunteers to stay informed on Habitat's global work. 
To receive registration information for these events, please sign up for the Global Village newsletter below. 
As always, you can reach us with questions at [email protected]. Thank you for your patience and understanding during this time.
Subscribe
Sign up to receive information about Celebrate & Learn calls and future trips.
Why volunteer with Habitat's Global Village trips?
Our volunteer trips offer more than just the opportunity to swing a hammer. When you travel and volunteer with Global Village, you'll experience the country like a local, with the locals. You'll work shoulder-to-shoulder with people of different backgrounds, races and religions and build your own global community.
Global Village trips offer an opportunity to explore new cultures, understand our differences and discover our commonalities. You'll find that you don't even need to speak the language to form deep bonds.
Your participation in Global Village trips helps support Habitat's ongoing efforts to ensure affordable housing around the world. While your personal trip may last for a week or more, your financial, emotional and physical contributions can be life-changing for both those in the communities where you work and in your own life
Types of Global Village trips
We have various opportunities to volunteer around the world depending on your area of interest, including building a single house or several houses at a time, both building and advocating for housing policy, disaster recovery, minor and major home repairs, energy efficiency projects, working with vulnerable populations like children or the disabled, and also trips just for women.
Learn more about Global Village
Contact Global Village
Email: [email protected]
Phone: 1-800-HABITAT
Mailing address:
Global Village, Habitat for Humanity International
322 West Lamar Street 
Americus, Georgia 31709-3543 USA