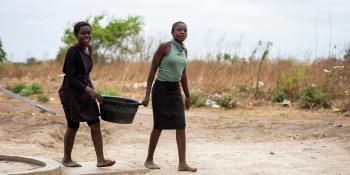 Habitat for Humanity and WASH
Habitat advances health outcomes, economic opportunities and gender equality through integrated housing and WASH solutions
Access to safe and reliable water, sanitation and hygiene — called WASH — is an integral component of adequate housing. 
Habitat includes WASH as a core component of our housing quality standards. We know that access to housing and WASH are key determinants of health and improve education and economic outcomes.
Yet billions of people around the world live in unsanitary, poor conditions, unable to access basic WASH services. People in the world's poorest places across the rural-urban continuum are the most impacted by WASH insecurity and caught in an intractable cycle of poverty and inequities.
Habitat provides a strategic solution: We integrate housing and WASH initiatives to advance housing equity as well as improve development issues that have long been caused by lack of WASH services. By connecting communities with our solutions, we advance health outcomes, environmental conservation, women's empowerment, economic growth, education and community resilience.
As climate change intensifies, water resources bear the brunt of the effects. Climate change threatens the quality and quantity of fresh water sources, increases the unpredictability of water availability, and worsens existing inequities in accessing WASH services.
The toll of WASH insecurity is staggering — millions lose their lives and livelihoods every year. Deadly diseases from contaminated water or lack of water for basic hygiene like handwashing are a public health threat. Water-borne diseases remain the leading cause of mortality in children under the age of 5.
WASH insecurity exacerbates existing gender inequalities and disproportionately impacts women and girls: Lack of toilets at home can put them at risk of gender-based violence, and girls are more likely to miss school than boys as they struggle with menstrual hygiene in the absence of WASH. Additionally, households lose valuable hours that could have been spent on generating income because they are forced to fetch water from distant sources.
With these realities, our work to build access to decent and affordable housing in under-resourced communities directly intersects with creating access to WASH services.
Our WASH strategy: integrated, inclusive and innovative
As a housing organization that both provides and advocates for affordable housing at a global scale, we are uniquely positioned to partner with communities to create inclusive WASH solutions that are: customized to local needs, affordable and sustainable, and integrated into the overall housing ecosystems.
Implementing holistic WASH solutions at the community, market and policy levels, Habitat prioritizes the most vulnerable and works on long-term measures to help families improve health, boost economic opportunities and reduce poverty.
Habitat's innovative program not only includes the conventional components of WASH — water, sanitation, hygiene — but also encompasses home hygiene and livelihoods.
Our far-reaching water, sanitation and hygiene solutions tackle the biggest needs in the communities where we work. Building community latrines, setting up clean water points, establishing handwashing stations, changing behaviors and more — all improve household and community resilience.
Home hygiene is crucial for people and communities to experience the full scope of benefits associated with housing. Home hygiene includes maintaining healthy indoor air quality, temperature, ventilation, and household cleaning.
In many countries, poor indoor air quality from dirt floors and coal- or wood-burning stoves leads to respiratory illnesses. Habitat connects families with clean energy solutions and has started local enterprises that supply biogas for cooking and improve indoor air quality. Families also learn to further their well-being through household cleaning, adequate ventilation and consistent indoor temperature, which minimizes dampness and prevents pathogen growth.
Habitat designs WASH solutions with an emphasis on livelihoods to help people generate income and secure a means of living. Our community-based approach fuels innovation and local enterprise.
We create opportunities for families to build income in several ways: developing social enterprises that transform household waste into building materials, setting up women-run sanitary napkin businesses, employing women to operate community WASH facilities and more.
Our focus on supporting the health, livelihoods and resilience of low-income families is key to optimizing development, advancing technologies, and securing the long-term operation and maintenance of the WASH facilities.
Habitat often includes WASH initiatives in our disaster risk reduction and response efforts.
Sustainable WASH services
Habitat's WASH solutions underscore many of the United Nation's Sustainable Development Goals, or SDGs, and specifically focus on Goal 6: ensuring availability and sustainable management of water and sanitation for all.
We build sustainability into our WASH solutions from the start, taking into consideration social, environmental, economic and technological factors as well as government policies. Habitat prioritizes managing natural resources responsibly and constructing climate-adaptable and sustainable solutions and facilities.
Some examples of our work include:
Energy efficient
Establishing low-cost and energy-free bio-sand filters, such as in rural Tajikistan.

Supporting green-powered solutions, including through solar energy. Communities in Ethiopia and Liberia have developed community-based, stand-alone water supply systems by installing wells with submersible pumps that run on green-energy.
Waste to resource
Processing toilet waste into sustainable sources of fuel, called biogas. WASH solutions in Liberia and Ethiopia make use of this environmentally friendly, renewable energy source.
Processing household plastic waste into building materials, such as in projects in Liberia.
Climate adaptable
Building raised sanitation and water supply facilities, which are resilient against shocks from floods and droughts increasingly caused by climate change. In Bangladesh, for example, we build raised platforms for toilets and tube wells.
Environmental conservation
Incorporating initiatives from major environmental programs, such as planting trees to protect water resources and absorb carbon dioxide. Communities in coastal areas in Mexico and Kenya incorporate tree-planting into their WASH work.
To sustain WASH improvements long-term, Habitat empowers local leaders to own the initiatives from start to completion, and we invest heavily in capacity building for running and managing the installed systems.
Market-based approach

brings WASH inside the home
Habitat's microfinance services and market interventions make implementing WASH inside the home affordable for low-income families and drive sustained improvements in their quality of life.
Habitat's MicroBuild Fund is the first housing-focused microfinance investment vehicle dedicated to helping low-income families build or improve their shelters, serving the most vulnerable in society.
The over $100 million fund lends to microfinance institutions, which in turn provide small home loans to low-income households. Loans for home improvement specifically include financing to add or improve any part of household WASH services through incremental building. For example, local partners like Sahara Nepal and Jeevan Bikas Sama in Nepal, as well the ASA Philippines Foundation, offer WASH solutions under their home improvement loans.
By investing in upgrading household WASH services ranging from indoor plumbing to indoor toilets, low-income families gain tangible improvements in their quality of life and their long-term financial stability. Bringing water and sanitation access inside the home predominantly benefits women and girls — they experience improved safety and security and better resources for managing menstrual hygiene. By freeing hours of their time previously spent fetching water from distant sources, girls are better able to attend school and women to focus on economic activities.