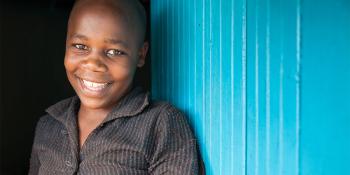 Financial Contribution
Europe, Middle East and Africa
Your donation will enable Habitat to continue providing affordable and decent shelter to thousands of families across the world.
What you can support
Habitat builds and renovates simple, decent and affordable homes with the help of volunteer labor and donations of money and materials.
Better energy efficiency is an important step in preventing climate change but it also protects vulnerable families from energy poverty. Habitat contributes to building energy efficient homes by improving insulation, replacing roofs and repairing or installing heating systems.
We are a leading disaster response agency with experience in the 2004 Indian Ocean tsunami relief efforts and currently the efforts in Haiti, where we have committed to providing earthquake- and hurricane-resistant homes for 50,000 families. We are seeking partners who will not only offer support when disasters hit but also invest now in our Disaster Response Fund.
We have specific projects designed for at-risk groups such as orphans and vulnerable children, single mothers, the disabled, the elderly and Roma communities.
Partners' donations can be designated to a single project that may be strategically in line with their core activity; alternatively, they can be spread to encompass an array of different initiatives that can highlight the partner's diverse geographic locations and interests. However a corporation or foundation chooses to become involved, Habitat always remains conscious of its partner's invaluable global image and strategic investment.
Habitat's experienced corporate and foundation partnerships team will provide detailed reporting on the activity that your donation has helped fund and each partnership will be given the attention of a partnership manager.
Other ways to support Habitat:
For more information or to start a partnership, please contact:
Heather Alner
Associate Director, Corporate Engagement
Direct: +421 2 336 690 23
Cell: +421 911 045 828
General: +421 2 336 690 00
Email: halner@habitat.org
"Developing sustainable housing solutions is a complex topic, and yet more relevant today than ever. Providing access to affordable financing and added services, such as technical assistance, play a crucial role in reducing poverty and promoting economic growth. Our partnership with Habitat for Humanity perfectly connects to our vision of creating large-scale solutions which have a lasting and positive impact on societal development."
— Bruno Walt, Managing Director, Hilti Foundation