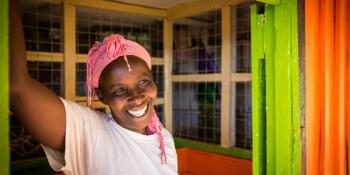 Throughout Africa, exciting initiatives are catalyzing actors and solutions to reach impact. There are important lessons to learn. Habitat's Compendium of Best Practices for Housing in Africa, produced by the EU-funded Build Solid Ground project, documents positive stories of change in the areas of adequate and affordable housing, including basic services, land tenure and slum upgrading.

The priorities, interventions and policy recommendations in the compendium are aligned with the global commitments of the 2030 Agenda for Sustainable Development and its Sustainable Development Goals, SDGs, the New Urban Agenda and with the recent commitments and priorities of the European Union and Africa and their partnership agreements.

This compendium presents 19 best practice cases from innovative experiences in 11 countries, covering flagship projects, contributions and collaborations from Habitat for Humanity, Cities Alliances, Slum Dwellers International, UN-HABITAT and their numerous local and international partners. These stories clarify the context, actors, steps taken, results, impact and lessons learned. They illustrate innovations and cutting-edge practical applications while demonstrating effective practices that can be replicated and scaled.
To launch this publication, Habitat for Humanity Europe, Middle East and Africa is hosting a series of webinars on the new EU-Africa partnership. Esteemed speakers and panelists will discuss how housing can contribute to sustainable growth, jobs and innovation in Africa. They will present policy suggestions and recommendations to ensure sustainable development.  
The period 2020/2021 is also pivotal to redefine Africa-EU relations, a partnership that has been reinforced in recent decades. Throughout the different phases of this alliance, the need for enhanced cooperation and coherence has been increasingly recognised and aid has been gradually dropped as a primary objective. Habitat for Humanity launches a policy paper on the matter of relevance of the housing and urban renewal sector in the EU-Africa partnership. 
Publications were produced with the financial support of the European Union. Their contents are the sole responsibility of Habitat for Humanity and do not necessarily reflect the views of the European Union.