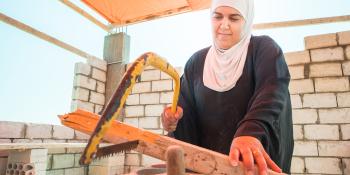 Equality in an unequal society
Women fighting for shelter
Episode 4, focuses on women and housing, in particular: what are the challenges women face when they try to access housing? The question is discussed with Fungai Mukorah, national director of Habitat for Humanity Lesotho.
Women aren't allowed to own land
Lesotho is a very good example of gender inequality in housing: being a patriarchal society, women are not allowed to own or inherit land, since inheritance of land and property follows the male line. Everything the family owns is passed from male to male, favouring the first-born child, as codified in customary laws.
Customary laws are governed by the traditional chiefs and, despite the existence of civil laws governed by the state, they still are the main legal source in use. With the Legal Capacity of Married Person Act of 2006 and the Land Act of 2010, gender inequality and customary land system where deems as discriminatory and limited. However, the norm about discrimination is found once again in customary law, which is the main source of it.
Constantly at risk of eviction
It so happens that women are cut out of any decisions about inheritance, especially when their marital status changes. For example, when they get married, divorced or become widows.
In these cases, the result for women is often an eviction: as a matter of fact, once the husband is no longer there – due to a divorce or death – his family feels the bond does not exist anymore, so the woman – who moved to the man's village after marriage – should go back to her original home.
At the same time, ta woman loses her house and source of living and must go back to her village where, being a female offspring, there will probably be no house waiting for her.
Unfortunately, many women do not fight against this, and that depends on a lot of different factors.
Why fighting back is difficult
First, weddings are often undocumented oral agreements done in the presence of witnesses. Since there are no documents, it is often complicated to demonstrate they actually happened.
Secondly, there is a social stigma over those women who fight to see their rights recognized. Therefore, many women prefer not to fight in order to be still accepted in their family and social circles.
Last, but not least, they have so much internalised the patriarchy culture that, if asked to register the property, they will do it in the exclusive name of their husband even when he is absent (as in the very likely case of emigrants).
How to improve gender equality in Lesotho
Due to all this, and to a poor knowledge of laws, most women wait until the problem presents itself to find a solution. Fungai suggests following few simple rules every woman in Lesotho should follow to have their rights recognized:
Make sure their marriage is properly documented.

When land is inherited or allocated through customary law, make sure there is a registration, and it is done in both names.

Make sure they know their legal rights, so that they can actually be able to claim them.
Since Lesotho is composed of many types of different laws and beliefs and a lot depends on which system – or combination of systems – has supported the decision-making, meddling with all this can be extremely complicated.
However, there are some things that can – and must – be done to address and solve the issue:
It is important to keep raising awareness and advocate not only for women, but more in general for the female children to be considered when it comes to inheriting the family property.

At a broader level, the issuance of land registration documents by local communities: having a registered documentation would make it a lot easier to track the story of a property.

Technical and financial help can provide an important support, especially to cover the needs of all those women without the economic means.
This leads us to another important point, that is making sure women can have a source of income. In that way, not only they can contribute to the acquisition of property, but they can also improve their chances of inheriting it, since they contributed to it and can demonstrate it. Also, having an income they would have the financial means to challenge the repressive practices in place.
Habitat for Humanity Lesotho is currently working on all these solutions to improve the wellbeing of all women in the country. And they keep telling the stories of women affected by these discriminations so that they can fight for their rights, finally with the support of their entire community.
Home Sapiens podcast was produced as a part of the Build Solid Ground Project, founded by the European Union, Habitat for Humanity. Its content is the sole responsibility of Habitat for Humanity and does not necessarily reflect the views of the European Union.
Listen to Home Sapiens podcast:
<Go back> <Next Episode>