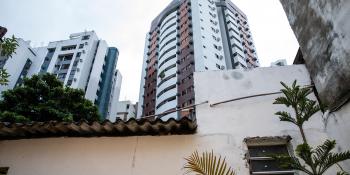 Does the right to housing exist?
How architects can reduce housing poverty
As a part of the Build Solid Ground project, supported by the European Union, Habitat for Humanity created a podcast series on housing issues around the world: Home Sapiens.
Episode 1 - the first of five episodes in season one – is an interview with Esben Neander Kristensen, Director at Gehl. He talks to Katerina Bezgachina, who heads communications for Europe, Middle East and Africa at Habitat for Humanity, about housing, home, people and their communities and cities.
The starting point for the interview is the difference between home and housing, a pivotal one according to Esben. While the latter is mostly related to functional needs, the former has a lot more to do with social interactions: with family and neighbours and, more in general, the community and the whole city.
One cannot live properly without the other, at least not in Gehl's work, which focuses on a holistic perspective to make sure that the individual not only has basic needs met but can also connect with the rest of the community.
We could say that civilization started when people started created buildings and shelters, and they change as our communities and society do so. The challenges are the same all around the world: in many cases, all architects recognize the same issues and, sometimes, also the solutions to those issues.
Why is it key to address affordable housing?
When it comes to housing, according to Esben, ensuring that authorities build an adequate home for their population is actually a lot cheaper in the long run than not providing any.
It is an important goal, as is the need to provide true homes – not houses disconnected from their communities – for everyone, which often is more complicated than many expect. As a matter of fact, in many countries, despite the success in delivering housing, it has been much harder to create real homes for families and communities.
If you build affordable housing in locations that lack the most basic services and infrastructure, you are creating a situation in which they will never turn into a home. Urbanizing areas that have no jobs, transportation, schools and utilities nearby means turning them almost surely into abandoned territories: in some Latin American countries, up to 70% of new buildings destined for social housing become abandoned.
But then, how do you build useful affordable housing? What are the key components that make it successful?
Apart from making sure that basic needs are met – which sits at the core – additional layers must be added, with the idea of creating a place that can be both:
A place of retracting, if you need to

And of interacting with the world around you.
If we think about the lessons from the Covid-19 pandemic, for example, balconies where a pivotal element to guarantee communication and interaction between people, despite many limitations. Social interactions are crucial for humans, and that must be taken into account when building a house.
What is exactly this "sustainability" everybody talks about?
Regarding the urbanization of developing countries, a lot has to do with economics and politics. However, there is an important role for the architect when it comes to sustainability, especially the local aspect. Basic services are of course central to communities, but they can also be found in places that could be counterproductive; so, the architect has the responsibility to be smart about the location, especially when dealing with larger cities.
When talking about housing, sustainability has many different levels:
Technical sustainability, connected to the performance of all the buildings components, especially in terms of energy.

Local adaptation or fitness, understanding where you can make the most impact, which is not the same everywhere.
If, for example, wasting less energy can be crucial in Northern Europe, in warmer climates such as Latin America, Africa or South East Asia there might be other levels of sustainability where you can make a bigger impact, for example, keeping rooms cool to enhance productivity and comfort. This could save a lot of money and greenhouse gases from air conditioning costs too.
That's why location and land use are so important. This is something that everybody keeps forgetting: in many cases, there are already buildings located in an ideal place in terms of connections, so it would be a great to reuse them. As Esben puts it, to be "smarter about the square meters that we have already built".
What should be kept in mind is that home is a place where you get the chance to disconnect from the world and at the same time connect to other things around you.
Now, after a pandemic and the subsequent lockdown, we understood a lot more about the link between us and our homes and from that we should start to improve the quality of living for all humans across the globe.
Listen to Home Sapiens podcast on:
<Go back>  <Next episode>