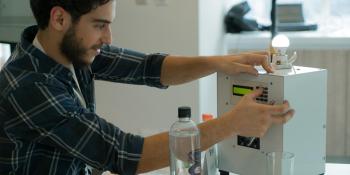 ShelterTech offers catalytic funds of up to US$25,000 to startups, enabling entrepreneurs to better position themselves for growth and scale.
With the funds, startups will have the opportunity to refine their innovation in pursuit of an ideal product-market fit, including: 
Product pilot testing. 
Certifications. 
Market research. 
Validation and testing of commercial traction. 
Scaling-up capacity building. 
Other activities that can address startups' growth plans. 
The funds are ShelterTech's commitment to support entrepreneurs in laying the foundation for growth, getting them closer to customer segments, and attracting new sources of capital and investments, including from Habitat's own Shelter Venture Fund. 
Who are the catalytic funds for? 
To be eligible to apply, entrepreneurs must: 
Have at least one fully developed product or prototype innovation in one of ShelterTech's focus thematic areas. 
Have a focus on or a plan for targeting the affordable segment.  
Be registered as a for-profit entity. 
The funds are also open to companies that are not in the affordable housing space. ShelterTech welcomes startups interested in adapting and testing their products for affordable housing markets. 
Making use of the funds 
Catalytic funds are intended for goal-oriented, milestone-based initiatives. Selected entrepreneurs will have the chance to co-create their goals alongside potential investors and the ShelterTech team through a development plan, which should include: 
A goal for the use of funds.   
Three to five milestones, with timelines for implementation, over a maximum period of one year. 
Evidence of how funding will help address challenges, opportunities and reach milestones. 
Throughout the cycle, ShelterTech will provide support and mentor the innovation toward market readiness. Once completed, startups will validate achieved milestones by demonstrating how customer access, revenue, market positioning, new segments and other indicators have improved. 
How to apply
ShelterTech is not currently accepting applications for catalytic funding. To learn when the next round of applications will open, please subscribe to the Terwilliger Center newsletter or check this page for updates. 
Questions?
Contact us through our inquiry form.