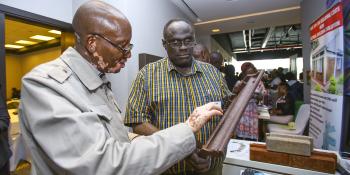 Accelerator advances housing solutions in Africa
As sub-Saharan Africa braces for continued rapid urbanization, local startups are racing to create affordable housing solutions for the 1.2 billion people expected to move into the region's cities by 2050. Though the region is brimming with entrepreneurs poised to tackle the boldest housing challenges, a lagging ecosystem for housing startups threatens their ability to scale. Through ShelterTech, the world's leading platform for affordable housing innovation, Habitat for Humanity is changing that.
Habitat's model for advancing innovation
Habitat's ShelterTech platform uses an accelerator model to fast-track innovations, advancing startups through a six-month program to improve their business models and get them investor ready.
Since its launch in 2017 through Habitat's Terwilliger Center for Innovation in Shelter, ShelterTech has partnered with more than 70 startups around the world to accelerate their growth and build a global community for shelter innovation.
The ShelterTech accelerators were piloted at a country level and have since expanded regionally to meet the growing global interest in affordable housing solutions. At each of the accelerators — Mexico, Kenya, India, Southeast Asia, Latin America's Andean region — entrepreneurs have tapped into an expanding ecosystem of investors, corporations, advisors and peers eager to help families facing housing challenges improve their quality of life.
Terwilliger Center regional director for East Africa, Jane Otima, says sub-Saharan Africa is ripe with big ideas and early-stage startups that can benefit from an accelerator.
"This will not only allow us to leverage the resources we have in Africa, but it will also make us more deliberate in how we deliver on housing solutions in the region," Jane says.
Habitat is partnering with global industry leaders — including Hilti, Dow and Autodesk— who will provide access to technical mentorship and other resources for the selected startups. Plug and Play, our anchor partner, will help lead the delivery of the program. 
A holistic approach to housing solutions
A decent home consists of more than walls, floors and roofs; the 10 startups participating in the ShelterTech accelerator in sub-Saharan Africa are "looking at the entire housing value chain," says Lizan Kuster, Terwilliger Center associate director for entrepreneurship and innovation. Beginning in 2022, these entrepreneurs are bringing groundbreaking innovations to key elements that make homes livable, sustainable and healthy: construction technology, affordable financing, potable water, clean and renewable cooking and lighting energy, proper waste disposal, and access to land and insurance.
Building on successes of past accelerators
Entrepreneurs joining the ShelterTech accelerator in sub-Saharan Africa can look to the wide array of startups that partner with Habitat through the Terwilliger Center. By participating in the Kenya accelerator in 2018, these three diverse companies have been able to refine their business models and reach more low-income families as a result:
Gjenge Makers

is a woman-led social enterprise transforming plastic waste into strong, low-cost bricks for paving. Its founder, Nzambi Matee, won the UN's Young Champion of the Earth Africa award in 2020 for her innovative and sustainable solution to plastic waste.

MycoTile

makes sturdy, fire-resistant walls and roofing materials sourced from agricultural waste and mushroom mycelium.

The Vlage

is an easy-to-use online platform where low-income young professionals across Africa's urban centers can access affordable co-living accommodations

.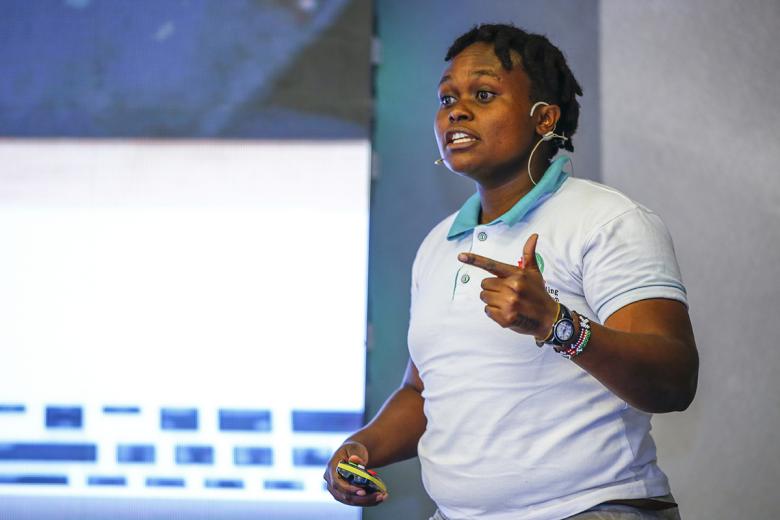 Startups multiplying impact
Given the global shortage of decent homes, Jane says Habitat's Terwilliger Center is strategically supporting for-profit startups to multiply the impact of housing solutions.
"We need scale, we need sustainability and we need the private sector to be part of the solution," Jane says. "We need to work with startups to show them that we believe in them."
Habitat showcases our belief in startups by not only offering them tools and resources through the ShelterTech accelerators, but also by directly investing in companies through our Shelter Venture Fund. As of August 2022, Shelter Venture Fund had invested a total of $3.31 million in catalytic funds to 12 promising housing startups operating in stages considered too early to attract investment from conventional venture capital firms.
Innovation to reshape the housing market
Across sub-Saharan Africa, millions of families live in inadequate housing. Creating access to affordable, safe housing for all requires new ideas and radical changes in local housing markets. Innovations can lead the way.
"If we don't support startups, if we don't support innovation, if we leave it to the solutions that are already in the market, then not everyone will have affordable housing," says Jane.
By empowering entrepreneurs through ShelterTech accelerators, Habitat helps startups bring products and solutions to the market, changing the future of housing affordability around the world.