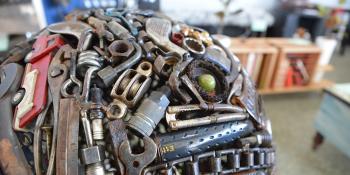 DIY art project ideas
Get inspired by the winners of the Milwaukee Habitat ReStore Recycled Art Contest.
Habitat ReStores are an ideal shopping destination when you're taking on recycled art project.
Milwaukee Habitat ReStore has built an annual contest around this idea: the Recycled Art Contest, which challenges the public to create artwork primarily from donated products found at ReStores. Their contest has continued to grow each year. This year, they hosted their ninth annual contest with an exhibition of 116 works made from recycled and repurposed materials.
"Think about just a kitchen remodel and the waste that can go along with that," said Jake Brandt, the contest's curator and director of marketing and communications at Milwaukee Habitat Restore. "We can take those cabinets, those appliances, and give them a second life.
The best part is, instead of ending up in a landfill, the sale of those cabinets funds Habitat's work in our community to help families in need of safe, affordable housing."
Winners of the Milwaukee Habitat ReStore Recycled Art Contest
First place: Mark Winter, "Ball-o-Junk" 
Mark scoured Milwaukee's ReStores and pieced together this "Ball-o-Junk" from hardware pieces such as metal tools and plumbing parts he found. 
"It's like a big puzzle with no correct answer," Mark says of his creation. "It's more a lesson in patience than anything."
In his search for the next perfect piece, he even resorted to unconventional items such as golf club heads.
"There tends to be more failure than success," he says. "It's about finding the right piece that fits next, and then heating and molding it to the ball."
Mark will also show his work at Art New York along with two companion pieces, which are smaller versions of the "Ball-o-Junk."
More winners:
Second-place winner Marcel Suliman created "Desk Lamp" with two functioning lights.
Using electrical components and miscellaneous hardware he found at ReStore, third-place winner Andrew Gundrum created a fully functional charging station. His piece, titled "Charlie," consists of two USB ports and a standard electrical socket.
Sienna Hill's "PVC Drums," which earned fourth place, are fully playable and tuned to perfection. Inspired by the performance art company the Blue Man Group, she created her piece with the help of a YouTube video. She found all the PVC piping at a local ReStore's plumbing section and the wood in the lumber section. For the mallets, Sienna repurposed the handles of paint brushes.
Hannah Zilm created a unique, wooden box titled "Betula Papyrifera," which received fifth place.
DIY recycled project ideas
The winning pieces from the Milwaukee Recycled Art Contest are just a few examples of the kinds of projects you can create with recycled materials available at most Habitat ReStores.
We've seen DIY or do-it-yourself recycled projects such as vintage pictures frames repurposed into a DIY gallery wall, a DIY pallet Christmas tree made from recycled wood and a backyard tiki torch created from a donated pair of skis.
At your local ReStore, you can browse through a dynamic pool of recycled materials for your project, and because donating to a ReStore helps divert millions of tons of usable materials from landfills each year, you're creating green art that benefits the environment.  
As a bonus, when you shop ReStore, you help Habitat build homes for families in your community and around the world.
Inspired by these projects? Head to a ReStore near you.