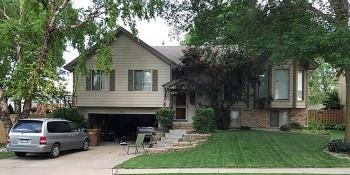 Preserving a lifetime of memories
More than 20 years ago, Peggy and her children moved into the home of her dreams. The mother of three remembers teaching her kids to ride their bikes on the sidewalk in front of the house, sending them to the elementary school "right up the hill" and walking them to the park to play. "Every nook and cranny. Every flaw that somebody might point out, I can look at, and it's a special memory," says Peggy, a disabled U.S. Air Force veteran. "It became my home in such a personal, special way."
Now that her children — 26-year-old U.S. Air Force pilot Connor, 24-year-old Jordan and 20-year-old Jonathon — are adults, Peggy had hoped to maintain a healthy home they could always return to. But as the years passed, her house began to require expensive repairs – like fixing a deteriorating roof – that Peggy couldn't afford to make. A string of personal losses and the post-traumatic stress disorder she'd developed from her military service made it even more challenging for her to fix her home.
In 2017, a tornado struck Peggy's neighborhood, accelerating the problems with her roof, and eventually water began saturating her walls and coming into her home. "I went through my dining room, my great room, the hallway and the back bedrooms, and there were water spots everywhere from water coming into the house through the roof," Peggy says.
Peggy also needed to have her chimney repaired and her windows replaced. During Nebraska's cold winters, she and her daughter, Jordan, would wrap up in blankets, gloves and scarves while sitting in front of the fireplace to stay warm because their home couldn't hold heat. The mother and daughter both have a condition that causes blood flow to slow with even minor exposure to cold temperatures. "We're very sensitive to the cold, and it causes us to be in so much physical pain," Peggy says.
Generations of service
As the daughter of a U.S. Marine Corps veteran and a veteran herself, Peggy was always more comfortable giving help than receiving it and was reluctant to apply for the home repair program at Habitat for Humanity of Omaha. "She was pretty adamant that there were other veterans who were in worse shape than she was, and that I should be helping them," says Mark Coffin, Habitat Omaha's veteran outreach coordinator.
Eventually, Peggy agreed to apply and was able to replace her roof and windows and have her chimney repaired. "I mean, I can't describe what it felt like the moment somebody knocked on my door and said, 'We're here to help you.' I sobbed for hours because I was so thankful," she says.
The repairs to Peggy's home were possible because of Habitat's Repair Corps program, which has been funded by The Home Depot Foundation since 2012. The program has helped more than 1,800 U.S. military veterans and their families. "The ability to make a difference in the lives of military veterans like Peggy through improved housing conditions is a priority for our company," says Sean Vissar, The Home Depot Foundation's manager of national programs and strategic partnerships. "It's why we partner with Habitat to help military veterans and their families complete critical home repairs. It is a deeply meaningful way to honor the service of those who have given so much to our country."
A home filled with love and music
Now that her home is safe and healthy, Peggy looks forward to being able to share it with her children and grandchildren for years to come. "No matter where my kids go, when we talk about home, everybody's heart is here," Peggy says.
With her house repairs complete, Peggy can also host the group she leads that helps fellow veterans cope with PTSD through the healing power of music. Peggy teaches the group guitar and finds pride and purpose in sharing her home. "It's helped me greatly just to have that sense of family and support coming into my home and be able to continue to make memories in the home that I love."