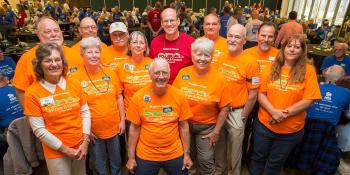 Donate to RV Care-A-Vanners
The RV Care-A-Vanner program accepts donations from RV clubs and associations, individual RV Care-A-Vanner volunteers, their friends and families.
These funds directly support the RV Care-A-Vanner program. With your donations, we can continue organizing, coordinating and sending teams of RV volunteers to build houses with families in need.
Donate to the RV Care-A-Vanner program
Donate by check
Make checks payable to "Habitat for Humanity International."
Write "Project Code 1108007" on the memo line of the check.
Mail your check to:

RV Care-A-Vanners
Habitat for Humanity International
322 West Lamar Street 
Americus, Georgia 31709-3543 USA
Donate an RV, trailer, boat or automobile
Call 1-877-277-4344, toll-free.
Or, go to Cars for Homes for more information.
Your support for the RV Care-A-Vanner program is sincerely appreciated.