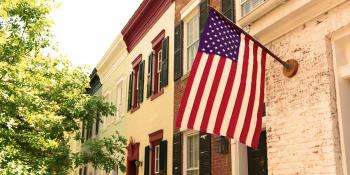 Ensuring access to and development of communities of opportunity
Ways to expand and preserve access to community opportunities
Expanding resources for home repair, home modification and weatherization assistance.

Funding lead and asbestos remediation.

Creating land banks that facilitate redevelopment of abandoned properties with affordable housing.

Establishing property tax relief programs to mitigate displacement.

Preventing evictions with the help of affordable legal assistance and "just-cause" eviction laws.

Supporting local decision-making processes to ensure that residents have a meaningful voice in community development.

Adopting local hiring and contracting policies.

Increasing the mobility of housing voucher holders.
At Habitat for Humanity, we know that home isn't just a building; it includes the community and resources in which you live, work and grow.
Affordable homes must be built in environmentally sound areas with access to economic and social opportunities and viable transportation. Moreover, as communities experience increasingly new development and investment, they need systems in place to preserve affordability and prevent the displacement of current residents, many of whom have lower incomes. Independent of location, homes must be well-constructed and mitigated against disasters to control the health, maintenance, sustainability and energy costs of the home.
When homes are affordable and well-located, families can have reasonable commutes to employment or educational opportunities, resulting in lower transportation costs and more time to invest in home and family. That investment creates greater stability for them and the neighborhood as a whole.
Everyone deserves a chance to live in a stronger and healthier community — and to contribute to how that community is shaped over time. That belief is what drives the Cost of Home campaign to support advocacy for policies that protect and strengthen neighborhoods and enable communities to thrive. Find out how you can be a part of this important work.