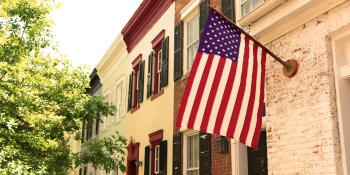 Ensuring access to and development of communities of opportunity
Ways to expand and preserve access to community opportunities
Expanding resources for home repair, home modification and weatherization assistance.

Funding lead and asbestos remediation.

Creating land banks that facilitate redevelopment of abandoned properties with affordable housing.

Establishing property tax relief programs to mitigate displacement.

Preventing evictions with the help of affordable legal assistance and "just-cause" eviction laws.

Supporting local decision-making processes to ensure that residents have a meaningful voice in community development.

Adopting local hiring and contracting policies.

Increasing the mobility of housing voucher holders.
At Habitat for Humanity, we know that home isn't just a building; it includes the community and resources in which you live, work and grow.
Affordable homes must be built in environmentally sound areas with access to economic and social opportunities and viable transportation. Moreover, as communities experience increasingly new development and investment, they need systems in place to preserve affordability and prevent the displacement of current residents, many of whom have lower incomes. Independent of location, homes must be well-constructed and mitigated against disasters to control the health, maintenance, sustainability and energy costs of the home.
"A community of opportunity is an ecosystem," says Christopher Coes, president of land use and development at Smart Growth America, a national coalition of nonprofits that advocates for economically-prosperous and environmentally-sustainable development. "A community of opportunity leads to shared, higher prosperity for all."
When homes are affordable and well-located, families can have reasonable commutes to employment or educational opportunities, resulting in lower transportation costs and more time to invest in home and family. That investment, Coes says, creates greater stability for them and the neighborhood as a whole.
As communities evolve with an eye toward the future, it is essential that existing residents with low- and moderate- incomes have the ability to remain in their homes and benefit from growing prosperity, says Steve Messinetti, president and CEO of Habitat for Humanity Portland/Metro East.
In Oregon, Habitat Portland/Metro East and other advocates petitioned local policymakers to make fairer, more equitable development decisions through a planning tool called an equity lens. "As the city grows and plans for the future, we now require an equity lens to ensure we don't again make the mistake of maybe having good intentions about growth, but having the result of displacing long-term residents in the process," says Messinetti.
By representing viewpoints from different races, ethnicities, disabilities, genders and sexual orientations, Portland's equity lens panel reviews and makes recommendations to the city so development doesn't solely or disproportionately benefit certain groups or incomes, especially at the expense of others. "In the end, when we have a community where everyone has a stake in its success, everyone benefits," says Messinetti.
In central Virginia, Habitat Greater Charlottesville is partnering to redevelop the Southwood mobile home park into a financially sustainable, mixed-income, mixed-use community — with the residents leading the way. To realize a community-defined vision for Southwood, residents and Habitat are pushing the boundaries of the county's zoning code as residents gain the knowledge and skills to plan the redevelopment themselves.
"We have learned how to step back and help residents step forward, so they are creating and imagining their future space," says Dan Rosensweig, Habitat Greater Charlottesville president and CEO. "It is about elevating residents to take the same kind of ownership stake in the neighborhood that they do in their homes. That is really what is predictive of success in these communities."
Everyone deserves a chance to live in a stronger and healthier community — and to contribute to how that community is shaped over time. That belief is what drives the Cost of Home campaign to support advocacy for policies that protect and strengthen neighborhoods and enable communities to thrive. Find out how you can be a part of this important work.
Read more about successes like these and how — when we come together — we can create lasting change through advocacy. Learn more about our Cost of Home campaign local policy successes.