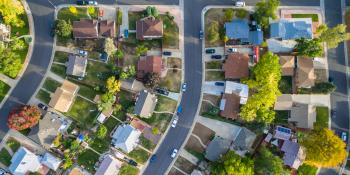 Optimizing land use for affordable homes
Possible approaches to creating more equitable access to land
Reforming zoning ordinances and design manuals to allow for a greater variety of housing types.

Streamlining discretionary land use approvals to reduce the time, risk and cost of building affordable homes.

Mandating or incentivizing the inclusion of affordable homes in new market-rate development.

Using public land for affordable homes.

Fostering community land trusts and other shared-equity models to help land remain available for affordable homes over the long term.
Zoning restrictions and high land prices can make it prohibitively difficult to build or preserve affordable homes in opportunity-connected communities.
In some towns and city neighborhoods, zoning ordinances ban small-lot homes, cottages or multi-family housing. In other communities, strict zoning limits and discretionary approval processes can drive up the time, risk and cost of building affordable homes to the point that their development is not viable. In redeveloping and strong-market neighborhoods, high land prices can pose an even bigger barrier to affordable homes, as intense competitions heat up land costs and makes viable development opportunities scarce.
The solutions lie in large part with local governments, says J. Ronald Terwilliger, former national managing partner of Trammell Crow Residential. "Land use decisions are principally made at the local level. We have to convince the mayors and city councils and county councils that we have a terrible crisis. There are a lot of things they can do."
The solutions can be many and overlapping, says Emily Thaden, director of national policy and sector strategy for Grounded Solutions Network, a national nonprofit that includes other nonprofits and local governments committed to creating affordable homes for rent and ownership. "When you're talking about equitable land use and increasing the supply of affordable housing, you really need to explore the quilting together of different tools and policies."
It starts with recognizing that every person and every household has meaningful neighborhood preferences, says Maya Brennan, Urban Institute senior policy associate. "Sometimes having a community land trust for rental housing is important or having ways to help high renter communities have affordable homeownership opportunities in that community as land values are rising — things like that can be important parts of equitable access to land."
There have been notable successes. Austin Habitat for Humanity has been actively engaged in the successful adoption of the Affordability Unlocked ordinance, which is designed to increase affordable housing through zoning changes and reduction of some development requirements. Habitat New York City participated in laying the groundwork for the city's first coalition focused on homeownership, the Coalition for Affordable Homes, and helped win the city support necessary for community land trusts to take root in more neighborhoods.
"Habitat single handedly got city council members on board, which got us over the hump," says coalition partner Leo Goldberg.
And in 2017, Habitat California helped pass breakthrough legislation that streamlined the approvals process for affordable housing developments statewide, significantly reducing the time, expense and risk of the development process. Since taking effect in 2018, the legislation known as SB 35 has reduced zoning barriers to affordable housing in accessible, job-rich neighborhoods.
"It is the first step in going after the root of California's housing crisis," says Habitat California lobbyist Holly Fraumedi-De Jesus, "but we still need to do more."
Doing more — that's why the Cost of Home campaign includes advocacy for policies related to land acquisition, use and development. We want to bring down the cost of building and stimulate the production and preservation of affordable housing, we want to promote fair housing, and we want to fully reflect community needs. Join us!
Learn how you can help create this kind of lasting change and read about our Cost of Home campaign local policy successes.