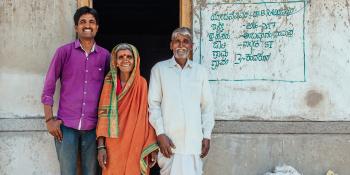 About Habitat's ShelterTech
Habitat for Humanity's ShelterTech is a global innovation platform advancing entrepreneurial housing solutions that radically improve the lives of low-income families. 
Supported by Habitat's Terwilliger Center for Innovation in Shelter and its partners, ShelterTech puts entrepreneurs at the center of a highly connected ecosystem of collaborators who share a passion for revolutionary solutions in affordable housing. They include investors, financial institutions, corporations, governments, peers, mentors and technical experts.
We are proud to announce ShelterTech's 2020 cohorts. Learn more.
The challenge is daunting: 1.6 billion people live in inadequate shelter globally, many in slums and informal settlements that, for generations, have trapped families in a cycle of poverty, poor health and social injustice. But Habitat's vision is a world where everyone has a decent place to live — and ShelterTech brings this into focus every time someone with a breakthrough housing idea improves their business model in partnership with impact investors, mentors and peers. ShelterTech supports innovation in housing sectors ranging from materials and markets to energy.
ShelterTech offerings
As the world's leading platform for affordable housing innovation, ShelterTech is unique in its range of offerings for startups and scaleups and its ongoing support of ShelterTech's alumni.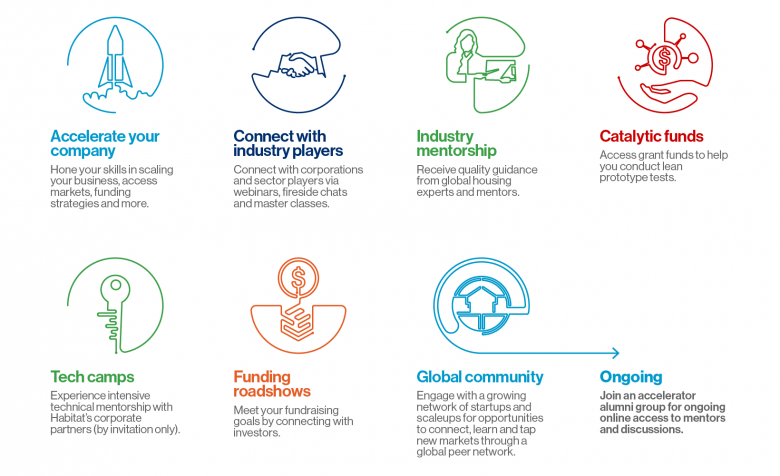 ShelterTech accelerators
At the heart of the platform are ShelterTech accelerators, which help bridge the gap between housing innovations and real-world impact. 
With existing accelerators in Mexico, Kenya and India, ShelterTech now adds two more in 2020: one in Southeast Asia, the other in the Andean region of South America. These accelerators are designed for this critical moment in history, as the world recognizes more than ever the link between health and housing. They will be conducted virtually and focus on housing product and service innovations that work in the context of the COVID-19 pandemic.  
Participants will experience the full journey of acceleration, working with experts to: develop and improve their products; demonstrate their products and services to potential investors; participate in cross-regional, peer-to-peer experiences to exchange knowledge; and join an accelerator alumni group for ongoing online access to mentors and discussions.
Across seven sectors and four phases, both 2020 accelerators will support entrepreneurs in areas of core housing and ancillary services.
Previous accelerators have featured startups such as India's EcoSTP, which developed a technology to treat sewage water using the principles of biomimicry. In Mexico, ECOLAM manufactures affordable construction material made from used toothpaste tubes and other recycled industrial plastics. In Kenya, The VLage developed a digital platform to link corporate employees in urban areas to co-living spaces.
Available funding
In 2020, ShelterTech is also introducing catalytic funds for supporting pilots of new business models. The funds, of up to US$25,000, are ShelterTech's commitment to support entrepreneurs in laying the foundation for growth, getting them closer to customer segments, and attracting new sources of capital and investments.

Applications for India-based startups are open. Applications for Kenya-based startups will be announced soon. Learn more about the funds and how to apply.
The Shelter Venture Fund is a venture capital fund that invests in promising companies and encourages other investors to do the same. Launched in 2017, the fund has disbursed $2.35 million to seven companies globally. In fact, several ShelterTech alumni have gained investors through the fund. 
Questions?
Inquire about how you can get involved with ShelterTech.
Contact us