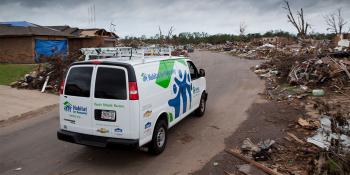 Pathways to permanence
As the 10th anniversary of the Indian Ocean tsunami approaches, families share how Habitat helps both before and after disaster.
Together, poverty and inadequate housing create a kind of slow-motion disaster, one that Habitat for Humanity has been helping to reverse for more than 30 years.
But sometimes bad fortune comes much, much faster.
In seconds an earthquake, tornado, flood or storm can obliterate a city or village, leaving death and dislocation in its wake. And low-income families in substandard housing are always among the most vulnerable.
That's why Habitat has helped more than 200,000 disaster-affected families in 44 countries including the U.S., providing both immediate assistance and the promise of a safe, stable home to return to when the crisis has passed.
We call our approach "Pathways to Permanence" because the best way to assist families standing in the path of both kinds of disaster — fast and slow — is to find lasting solutions to their shelter needs. So much follows from that: better health, access to education, stronger communities, thousands of lives turned toward peace and promise.