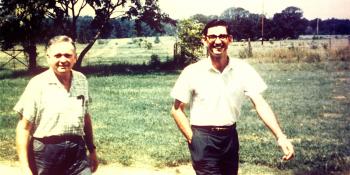 Habitat for Humanity's milestones in history
1942
The Jordan and England families found Koinonia Farm, an interracial community outside Americus, Georgia, where all people are treated equally, resources are shared, and great responsibility is placed on being wise stewards of land and natural resources.
1950
The Jordan family and other Koinonia residents are excommunicated from Rehoboth Southern Baptist Church for their views on racial equality.
1956
Boycott of Koinonia products by the local business community begins and continues into the mid-1960s.
1957
Clarence Jordan receives letter of support from Martin Luther King Jr.
1965
Searching for new purpose in their lives, Millard and Linda Fuller arrive at Koinonia.
1968
The concept of partnership housing and the Fund for Humanity are created. Partnership housing centered on those in need of adequate shelter working side by side with volunteers to build decent, affordable homes. The houses would be built at no profit. New homeowners' house payments would be combined with no-interest loans provided by supporters and money earned by fundraising to create the Fund, which would then be used to build more homes.
1969
The first partnership house is completed in Sumter County, Georgia.
1973
Millard and Linda Fuller move from Koinonia, taking the principles of partnership housing and the Fund for Humanity to Africa.
1976
The Fullers return from Africa, and Habitat for Humanity is formed with headquarters in Americus, Georgia.
Construction begins on the first Habitat house, built in San Antonio, Texas.
The first partnership houses are completed in Zaire.
1977
Clive Rainey joins Habitat for Humanity as its first volunteer.
Habitat for Humanity International is formally incorporated under the laws of the state of Georgia.
1981
Habitat celebrates fifth anniversary, having built 342 houses in 14 U.S. and seven international locations.
1984
Former U.S. President Jimmy Carter and his wife Rosalynn join Habitat's efforts. The first Jimmy Carter Work Project is held in New York City.
1986
Habitat for Humanity International celebrates 10th anniversary with a 1,000-mile walk from Americus, Georgia, to Kansas City, Missouri.
1987
Baylor University in Waco, Texas, becomes the first Habitat campus chapter.
Marist School in Atlanta, Georgia, becomes the first secondary school campus chapter.
1990
Abilene, Texas, becomes the 500th U.S. location where Habitat builds.
1991
Habitat's 10,000th house is built in Atlanta, Georgia.
Habitat's first all women-built house is completed in Charlotte, North Carolina.
The first Habitat ReStore opens in Winnipeg, Canada.
1992
The first Habitat ReStore in the U.S. opens in Austin, Texas.
1996
Habitat dedicates 50,000th house worldwide in Pensacola, Florida. The 50,001st house is celebrated in Mexico City.
Habitat begins building in 50th nation, Romania.
1999
The Jimmy Carter Work Project in the Philippines is the largest Carter Work Project ever, with 14,000 volunteers from 32 countries building 293 houses.
2000
Habitat's 100,000th house is dedicated in New York City.
2001
Habitat celebrates 25th anniversary with a build in Indianapolis, Indiana.
U.S. President George W. Bush works on a Habitat home in Tampa, Florida.
Millard and Linda Fuller travel to Uganda and several other African nations to celebrate the 20,000th house built on the continent of Africa.
2002
A team of volunteers in Shelby County, Alabama, break the record for the fastest Habitat house build, completed in just 3.5 hours.
2003
Habitat opens the Global Village & Discovery Center in Americus, Georgia, which demonstrates shelter needs around the world and highlights examples of the safe and decent homes that families build when they partner with Habitat.
Habitat's 150,000th house is completed during a build in Romania.
2004
Habitat celebrates 800th campus chapter worldwide at the International School Manila in the Philippines.
2005
Habitat for Humanity International's board of directors names Jonathan T.M. Reckford to serve as the organization's chief executive officer.
In Knoxville, Tennessee, Habitat celebrates the construction of the 200,000th house, having helped 1 million people create safe and decent places to live since 1976.
Habitat launches Operation Home Delivery to help rebuild the U.S. Gulf Coast in the aftermath of hurricanes Katrina and Rita.
2006
Habitat announces that in the two years since the deadly Indian Ocean tsunami, the organization has helped nearly 10,000 families build permanent housing in India, Indonesia, Sri Lanka and Thailand.
2007
In what will become an annual tradition, the Rockefeller Center Christmas tree is milled into lumber and donated to Habitat to be used in the construction of an affordable home.
2008
The 25th Carter Work Project is held on the U.S. Gulf Coast, and the event is officially renamed the Jimmy & Rosalynn Carter Work Project to recognize Mrs. Carter's many contributions.
Habitat's 300,000th house is built in Naples, Florida.
2009
Habitat unveils the Build Louder advocacy campaign, which focuses on neighborhood revitalization and secure tenure policies.
Habitat is ranked as the largest private homebuilder in the U.S., according to Builder Magazine's 2008 Builder 100 list.
President Barack Obama and first lady Michelle Obama volunteer with Habitat in Washington, D.C., as part of 9/11 National Day of Service and Remembrance.
2010
After a devastating earthquake strikes Haiti, Habitat pledges to help 50,000 families improve their shelter conditions.
Habitat announces that the organization has served more than 2 million people worldwide.
2011
Habitat is recognized as one of the most innovative international development organizations with selection as a Devex Top 40 Development Innovator.
Habitat staff and volunteers build the 500,000th house in Maai Mahiu, Kenya.
2012
Habitat establishes the MicroBuild Fund, the first impact capital fund to invest in the innovation and scale of incremental construction and home improvement finance for low-income households in developing countries.
Habitat launches first fleet of mobile response unites to assist those along the U.S. East Coast affected by Hurricane Sandy.
2013
Habitat celebrates 800,000th house build, rehabilitated or repaired. The milestone is announced as Habitat reveals that — for the first time in the organization's history — more than 100,000 families had been served in a single fiscal year.
Habitat embarks on new strategic plan aimed at expanding the organization's impact on all aspects of affordable housing in the more than 70 countries where Habitat is at work. The plan's three main components:
• Improve housing conditions for an ever-larger number of the world's poor and low-income families
• Support and influence partner organizations to increase access to shelter and advocate for affordable housing policies
• Mobilize hands, hearts and voices of volunteers in the cause of adequate and affordable housing.
2016
Habitat announces Solid Ground, a three-year global advocacy campaign focused on promotion land policies, laws and systems to improve access to adequate shelter.
Habitat launches the Terwilliger Center for Innovation in Shelter to expand market-based solutions for affordable housing.
Habitat establishes Habitat Humanitarians to recognize the invaluable contributions of high-profile volunteers. Inaugural honorees are former U.S. President Jimmy Carter, former first lady Rosalynn Carter, and country music stars Garth Brooks and Trisha Yearwood.
2017
Habitat launches Home is the Key, a unified, annual nationwide campaign that gathers sponsors, celebrities, community leaders and consumers to unlock futures and change lives through affordable housing.
Habitat announces that more than 13.2 million people have built or improved a stronger, more stable place to live with the organization's help.
World-renowned construction and real estate experts Jonathan and Drew Scott of HGTV Property Brothers fame are named Habitat Humanitarians.
Habitat launches ShelterTech out of the Terwilliger Center to scale affordable housing solutions and build an ecosystem of startups, corporations, foundations and investors eager to radically improve the lives of low-income families.
2018
Habitat dedicates the Americus headquarters building in honor of Clarence Jordan.
2019
Habitat unveils Cost of Home, our five-year U.S. advocacy campaign to help create and influence housing policies that will enable 10 million people to gain access to safe, decent and affordable homes.
2020
Habitat reports that more than 35 million people have partnered with us to access new or improved housing since its founding in 1976.
2021
Habitat celebrates 1 million people who have improved their access to better housing through the MicroBuild Fund, more than doubling the initial projected impact.
2022
Habitat launches the Advancing Black Homeownership initiative to redouble its commitment to increasing homeownership opportunities for Black families in the U.S.

Learn more about Habitat's work in your community and around the world in our stories section.