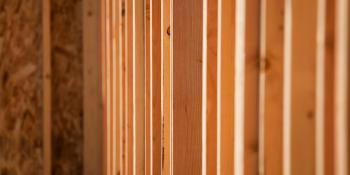 40 facts about Habitat and housing
With our help, Habitat homeowners achieve the strength, stability and independence they need to build a better life for themselves and for their families. As we celebrate 40 years of building in your community and all over the world, here are 40 facts to help you get to know us even better.
Habitat firsts
1. The idea that became Habitat grew from the fertile soil of Koinonia Farm, a community outside Americus, Georgia, founded by farmer and biblical scholar Clarence Jordan. It was there that Jordan and Millard and Linda Fuller develop the concept of partnership housing.
2. The Fullers went to the African country of Zaire, now Democratic Republic of the Congo, to test their idea. "Within three years, we had built more than 120 houses," Linda says. "That's when we decided that this idea would work most everywhere in the world." The Fullers started Habitat in 1976.
3. That same year, Sylvia and Ernesto Torres partnered with the first local Habitat started in the U.S. in their hometown of San Antonio, Texas. Habitat currently works in 1,400 local communities all over the U.S. and 70 countries around the world, from Argentina to Zambia.
4. In 1984, former U.S. President Jimmy Carter and his wife, Rosalynn, volunteered in New York City. Since then, the Carters have helped build, renovate and repair 3,944 Habitat homes in 14 countries, while raising awareness of the critical need for affordable housing. "Habitat is not a sacrifice that we make for others," President Carter says. "Habitat is a blessing for those of us who volunteer to help others."
5. The first Habitat ReStore opened 25 years ago in Winnipeg, Canada. Now, the proceeds from more than 930 of these home improvement stores and donation centers help build homes in local communities.
6. We raised the walls on the first house to be built along the U.S. Gulf Coast after the devastation of Hurricane Katrina.
Why we build
7. Because of moms like Tracey, who says, "Living in this house is one of the most uplifting things in my life."
8. Because of dads like Mario. "When I was growing up, my father always fixed things, and he tried to teach me to be hands-on," Mario says. "Now, Habitat has given me the opportunity to be my dad. He always told me, 'Be better than me.' I don't think I'm better, but I'm on the way to being just as good."
9. Because of grandmothers like Luisa, who describes herself as a fighter but still needed just a little help to provide a healthier home for her grandson. "Because of Habitat, I have this house with everything better than it was before. It's a total change, yes sir," she says.
10. Because of kids like Samantha, who finally gets to put down roots. "This house just feels different," the teenager says. "I know I am not going anywhere. And that feels good."
11. Because students from low-income families who change schools frequently are at risk of lower math scores and can be overall more likely to drop out.
12. Because children who live in homes with leaking roofs, broken windows, rodents, nonfunctioning heaters or stoves, peeling paint, exposed wiring, or unsafe or unclean environments often experience greater emotional and behavioral problems.
13. Because about 1 in 4 people worldwide live in conditions that harm health, safety, prosperity and opportunities.
14. Because nowhere in the U.S. will a full-time minimum wage job pay for a median one-bedroom apartment; in 30 states, two minimum-wage jobs won't cover the rent.
15. Because, according to a survey of more than 400 Habitat Metro Denver families, children raised in a Habitat home are twice as likely to go to college, compared to the local average for similar demographic and economic groups.
16. Because Habitat Canada homeowners report an average 5.2 percent increase in income and display improved health behaviors, demonstrate greater engagement in their communities and enjoy a better educational outlook.
17. Because ensuring secure property rights for women provides far-reaching benefits for entire communities.
18. Because the words of Millard Fuller still ring true today: "A house is to a family what soil is to a plant. A plant needs to be rooted. A family is like that. If a family is not rooted, it will not flourish. But once a family is well-rooted, all kinds of wonderful things will begin to happen."
How we build
19. Future Habitat homeowners are selected locally, with the criteria centering on their need for decent housing, their ability to repay an affordable mortgage and their willingness to partner with Habitat to build or improve a place they can call home.
20. Those future homeowners perform hundreds of hours of sweat equity, which can take many forms: building their home or a home for another family, build-site clean-up, working in a Habitat ReStore, assisting in administrative duties, or countless other ways of helping out. Children sometimes also can contribute by earning good grades in school. The local Habitat in Jackson County, Florida, awards one hour of sweat equity for every "A" that a child earns.
21. Future Habitat homeowners also take classes to learn how to manage a home or finances. Throughout the process of purchasing their home, Habitat partner families can earn sweat equity credit as they learn about their mortgage, insurance, maintenance, safety and more.
22. Habitat homeowners then pay an affordable mortgage, and their monthly house payments help build homes for future homeowners.
23. When a homeowner pays off their mortgage, the occasion is often marked with a mortgage-burning ceremony.
What we build
24. We build new homes that are durable and healthy for the lowest possible cost. We focus on energy efficiency and other sustainable building techniques and materials.
25. We repair and rehab existing homes. See these amazing transformations.
26. We help revitalize neighborhoods. Many local Habitats in the United States partner with residents, community leaders and local groups to revitalize neighborhoods. Sometimes, their efforts include building new homes or doing repairs. In the past three years, local Habitats doing neighborhood revitalization also have participated in more than 7,500 community projects, from renovating community centers to helping build community gardens.
27. Wherever possible, we work with local materials and customs, everything from using bamboo in Nepal to turning recycled textiles into an affordable thermal insulation product being developed in Bulgaria.
28. We've built more than 70,000 new homes and rehabbed or repaired another 100,000 homes through our disaster response and recovery efforts. Families helped include those devastated by earthquakes in Haiti and Nepal; those displaced by destructive storms throughout the U.S. and Asia-Pacific region; and many more in other locations who find themselves suddenly seeking pathways to permanence.
29. Most of all, we build strength, stability and self-reliance through shelter. Decent shelter is something we all need to thrive, and your help makes that possible for more families every day.
Our big, extended family
30. In 1977, schoolteacher Clive Rainey became Habitat's first volunteer. "I like to tell new Habitat homeowners that they should keep their hammers as a reminder that they beat poverty with that tool — and with determination, they can beat anything that threatens their right to a simple, decent home," says Rainey.
31. Today, more than 2 million Habitat volunteers a year build, advocate and raise awareness about the global need for shelter.
32. Among the U.S. first families who have built with Habitat: Jimmy and Rosalynn Carter and their children; Gerald Ford; Bill and Hillary Clinton and daughter Chelsea; George W. and Laura Bush; and Barack and Michelle Obama.
33. Among the many celebrities who have helped us build: Trisha Yearwood, Garth Brooks, Tom Brokaw, Rachel McAdams, Cher, Jet Li, Bob Hope, Kurt Warner and Katie Couric.
Other cool things about us
34. Each year since 2007, lumber milled from the Rockefeller Center Christmas Tree has been used to help a family build their Habitat for Humanity house. Tishman Speyer, the owner and operator of the Rockefeller Center, generously donates that lumber to Habitat, and company staff members build alongside a family.
35. Our early history and development is documented in the Habitat for Humanity International collection at the Hargrett Rare Book and Manuscript Library at the University of Georgia.
36. Just two days after being named Habitat CEO in 2005, Jonathan Reckford helped raise the walls on our 200,000th house, in Knoxville, Tennessee. In his 10-plus years at Habitat's helm, he also has built from Colombia to Cambodia, visited with homeowner families in Kenya and South Africa, participated in international events like the Clinton Global Initiative and UN Habitat's World Urban Forum, and so much more.
37. More than 500,000 people like us on Facebook, and we have more than 1 million followers on Twitter. Are you one?
38. The most-watched video on our YouTube channel celebrates how a donated doorknob helps Habitat do more (via our ReStore) and currently tops 221,000 views.
39. The driving force behind everything on this list is our vision of a world where everyone has a decent place to live.
40. All it will take to make the next 40 years as great as our first 40 years is you. Your financial support, your voice and your time will help more future homeowners build or improve a place they can call home.
DIY tip #103
Keep black and brown Sharpie pens handy for touching up minor dings in wood.
Get our guide with over 150 household tips from Habitat supporters like you!